Want the Best Location in Honolulu? Try 1350 Ala Moana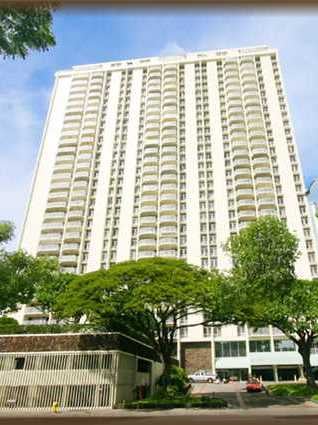 As I mentioned in Friday's post, I've long been curious about 1350 Ala Moana. Built in 1968, the building was the first residential high-rise constructed in Honolulu and was the work of renowned architect Minoru Yamasaki, who also designed the World Trade Center. The 34-floor high-rise has 353 units, the majority with between 1,033 and 1,243 square feet of living area.
As I also mentioned last Friday, the building is known for having a more mature resident population. However, according to Prudential Advantage Realty realtor Lena Ching, who has lived at 1350 for the past 10 years, the demographic is becoming younger (think young families and professionals) with each passing year. When I asked Ching what prompted her to buy in the building, she touted its "location" and "conveniences." She would be referring to 1350's stellar location at the intersection of Piikoi St. and Ala Moana Blvd. across from Ala Moana Center and the beach park. It's also in the same area as several other prime Honolulu addresses, including Hokua, Koolani and Nauru Tower. "A lot of buyers also look at Nauru and Hokua but find that the condos here are much more livable, with bigger kitchens and more storage," says Ching.
At this weekend's open house, I learned a few things I didn't already know about the building, including the fact that a retinal eye scanner was recently installed for increased security. Pretty cool, but when I dropped by, I didn't see a single soul using it, and I waltzed right into the building, no problem. Perhaps it's only used at night? Additionally, the building is not pet-friendly (bummer). On the bright side, the dark and decidedly aged hallways are getting a makeover, starting with the top floors and working their way down. The revamped hallways feature a textured, cream-color wallpaper, a mauve-y/gray patterned carpet, modern light sconces and new, gleaming-white front doors with updated hardware for every unit. According to Ching, owners paid a small assessment fee of about $4,000 to $5,000 each to cover the renovation costs. Lastly, in addition to a party room, small fitness center and swimming pool, the building also offers a wood shop with all the necessary equipment should you need to refinish that old coffee table.
There are four resales at 1350 currently listed in MLS. There's the two bedroom/two bath renovated unit on the 10th floor listed for $898,000 that I wrote about on Friday, as well as a penthouse with two bedrooms and two baths, also listed for $898,000. The other two apartments include a third-floor 2/2 garden unit with a fenced yard listed at $728,000, and a sixth-floor 2/2 for $635,000.