Waiting to Exhale
The Highs and Lows of the Admissions Process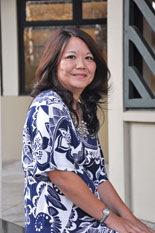 Kelly Monaco
Every spring, like a rite of passage, scores of families await the envelopes with letters letting them know whether or not their children have been accepted into the schools of their choice. Whether they're regarding admissions to colleges or preschools, those letters in the mailbox can bring extreme joy or extreme disappointment; the anticipation alone can be hard to bear.
Understandably, being admitted to a school, or many schools, has more desirable next steps. Pride, elation and joy are some of the emotions experienced and the good news is celebrated by siblings, grandparents, aunts, uncles, cousins, neighbors and teachers, to name a few. The next steps, approached with anticipation, are well defined.
Not being accepted is much more difficult and the next steps are less certain. Feelings of rejection, failure and blame sometimes cloud that path. Instead of a celebration, some parents feel ashamed. "Maybe I did not prepare my child like others did," said one mom who chose to avoid parents at her son's preschool for days after her son was not accepted to his first school of choice. "I felt like I had failed as a parent," she added.
William Tsushima, Ph.D., a clinical psychologist, shares this advice: "There are many highly qualified applicants. Not being accepted simply means that there just wasn't enough space available, or the school was not the best learning environment for your child."
In our small, tight-knit community, news can travel fast. Some parents choose to broadcast their children's acceptances to a larger group immediately. Being sensitive to others and finding the right balance seems to be the rule of thumb. "When decisions come out, families are proud and excited for their children. While posting on Facebook is now a natural way to communicate with others, families should also use caution," says Cathy Chong, Iolani's director of communications.
Scheduling a post conference with the school can be helpful. Not only can the admissions personnel provide helpful insight, but the valuable information you gain can assist you in taking the appropriate next steps for your child. Remembering that the decision does not define your child is helpful. As one wise parent said after receiving a letter of non-acceptance, "My son is still the same child I loved before the decision arrived."