Waimanalo Country Farms Pumpkin Patch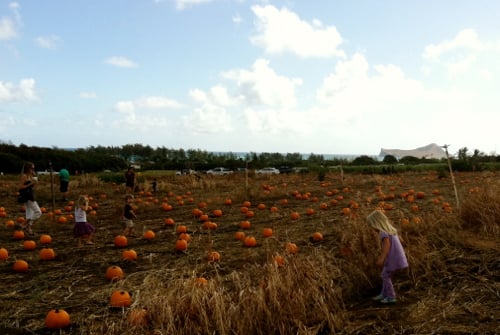 Time to bust out the candy and costumes! October is here, and I am psyched for Halloween, my favorite holiday of the year. This month is packed is with family-friendly treats to get you in the spooky spirit. One of my family's favorites is visiting Waimanalo Country Farms' pumpkin patch and corn maze, which opens this Saturday.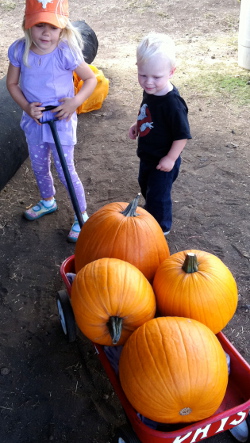 This year's theme is "Good Seeds on Good Ground," which emphasizes the farming aspect of the pumpkin patch. New this year will be an interactive play park, where kids get to try their hands as farmers, from planting seeds to harvesting crops. They'll even get to plant a pumpkin seed to bring home. Another new attraction will be the Cow Train, which the farm owners built from barrels, and is a perfect ride for little ones.
Just as last year, they'll offer hayrides, a corn maze, petting zoo, play area, face painting, games (we love the pumpkin cannon), and food booths. All activities are $3 each, or you can buy an Activity Pack for $10 and get unlimited access to all of them.
And of course, there's the pumpkin patch, where my kids always get a thrill from picking their very own. Prices range from $1 for the mini ones, up to $20 for jumbos. (Tip: If you have young kids, and plan on getting several pumpkins, bring a wagon, or a least a large bag. I remember trying to juggle two kids and two pumpkins by myself last year, not easy!)
Also, be sure to take advantage of the gorgeous views and photo opps. For an even spookier experience, try out their Haunted Trailer Ride and Haunted Corn Maze, offered only in the last two weekends of October.
Waimanalo Country Farms Pumpkin Patch and Corn Maze, open every Saturday and Sunday in October, 9am to 5pm. Free admission and parking. 41-225 Lupe Street, across from Waimanalo Beach Park. For more info call 306-4381 or visit www.waimanalocountryfarms.com.