Waikiki Condotel Units From $155K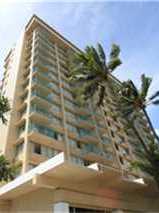 The Aqua Aloha Surf & Spa Hotel is an affordable boutique condo hotel (a recent search showed rooms priced between $99 and $159 per night) located behind the Food Pantry and a few blocks from Waikiki Beach. According to Century 21 All Islands realtor Eti Fuchs, who showed me a unit during a recent walking tour, the condotel has had a 92 percent occupancy rate over the past four years. In fact, according to Fuchs, the building is so popular, that when units come on market, they often receive five or six offers, many over asking price. The pieds-a-terre are popular with buyers looking for a low-maintenance Island getaway that also represents a solid, income-generating investment.
Of course, it's helpful to keep in mind that this is not a luxury building, though it is well maintained and cozy. The lobby is a bright, open-air space with a comfortable sitting area and a small spa, café and fitness center (OK, three cardio machines) off to the side. Once a week, the hotel hosts pupu, drinks and live music for guests in the lobby. There's also a small swimming pool and courtyard in a back corner, which seemed to be a popular spot to casually read through the morning newspaper. To give you an idea of the building's size, there are seven floors with about 13 units per floor.
The units are on the small side, with studios and one bedroom suites that start around 200 square feet and go up to about 600 square feet. Furnishings are of the decidedly hotel variety—neutral colored and basic—and the majority of the units have private lanai. Each unit has a small kitchenette with the basics (refrigerator, microwave, coffee maker, etc.).
Views are obviously determined by the unit's location within the building. The listing I saw was located on the Ewa side and had less-than-stellar views of the neighboring building (which might partially explain the $119,000 listing price). Units on the Diamond Head side definitely have the better vistas, so you may want to hone in on those. Parking is not included and costs $20 per day, though I'm told that some owners choose to rent spaces by the month at nearby buildings.
Money talk: Prices start in the low- to mid-$100,000s and go up to the mid-$300s. Keep in mind that it's difficult to procure financing for condotel properties, so most buyers pay cash. Monthly maintenance fees cost between $450 and $900 and include cable TV, electricity, hot water, sewer and water.
Current listings include:
• One bedroom, one bath 495-sq.-ft. penthouse unit with a 52-foot wraparound lanai. Listing price: $325,000. Listing agent: Isabella Forster, Hawaii Realty Professionals, 389-3999, isabella@isabellaforster.com.
• A 385-sq.-ft. studio penthouse with full bath and lanai on the 15th floor. Listing price: $245,000. Listing agent: Traci Rambo, Hawaii Paradise Properties, 383-2426, tkrambo@gmail.com.
• One bedroom, one full bath unit with 462 square feet on the 16th floor. Listing price: $155,000. Listing agent: Adrienne Lally, RE/MAX Honolulu, 687-8921, AdrienneLally@remax.net.