Waikīkī Aquarium Rolls Out New Exhibit
The Living Reef Exhibit features corals from the Pacific Ocean.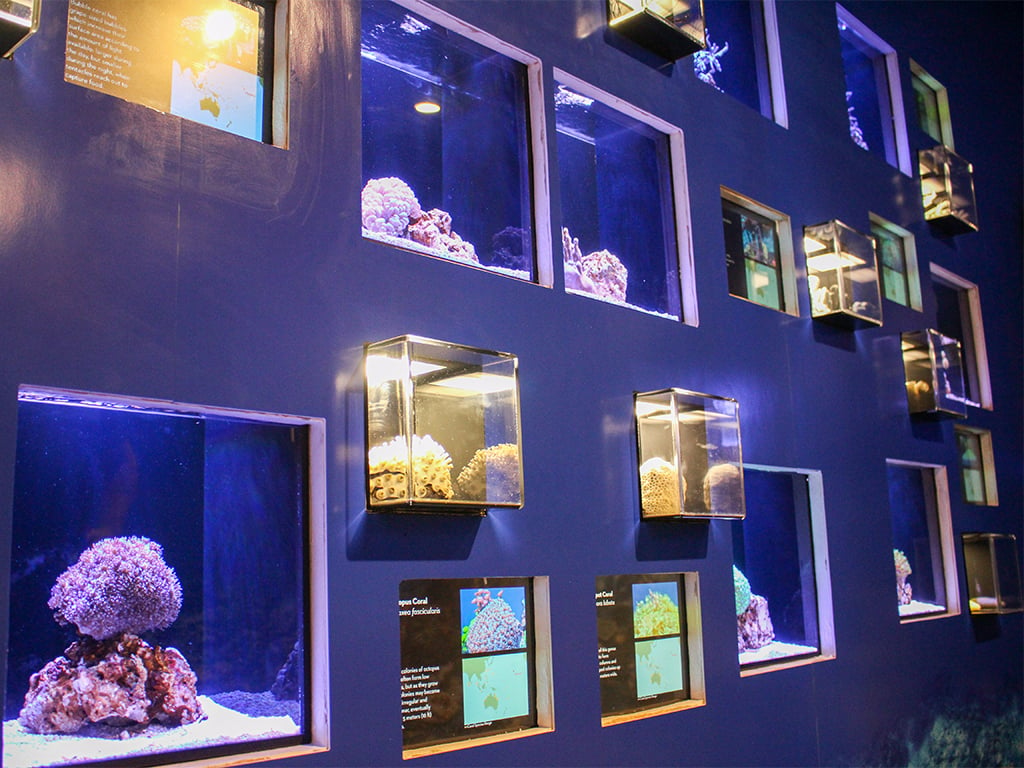 Photo: Courtesy of Waikīkī Aquarium
The new "Living Reef Exhibit" at Waikīkī Aquarium opened on Feb. 18.
Waikīkī Aquarium has introduced a wall of 12 new tanks filled with living creatures from the reefs of the Indian and Pacific Ocean. It's called the Living Reef Exhibit, an interactive and constantly evolving exhibit highlighting the majesty of both soft and stony coral. The exhibit opened on Feb. 18.
Located to the right of the entrance of the aquarium's galleries, the exhibit includes an interactive kiosk with information on coral ecology and physiology, marine ecosystems, and a 3D educational polyp sculpture depicting the smallest building block of a coral colony.
"Corals play an extremely vital role in our marine ecosystems, so we're excited to debut our new Living Reef Exhibit to highlight their importance," says Andrew Rossiter, P.h.D., Waikīkī Aquarium director, in a press release. "Our exciting, interactive displays provides guests with the opportunity to learn more about coral in the Pacific Ocean, and its impact on reef bio-diversity." The exhibit honors the late Ruth Gates, P.h.D., director and researcher at the Hawai'i Institute of Marine Biology (HIMB).
The aquarium has more than 500 marine species and more than 3,500 marine specimens. For a list of other reasons to visit the aquarium, visit here.
---
Waikīkī Aquarium is located at 2777 Kalākaua Ave. Hours are daily from 9 a.m. to 4:30 p.m. Admission is $12 for visitors; $8 for local residents and active duty military with ID, $5 for senior citizens and juniors ages 4 to 12; and free for children 3 and younger, and for Friends of Waikīkī Aquarium (FOWA) members. Call 923-9741 or visit waikikiaquarium.org.