Video Trailer: Biting Commentary Debuts This Sunday on TV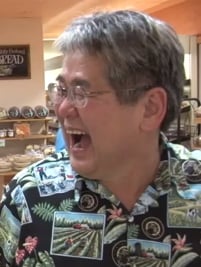 Brace yourselves.
Biting Commentary comes to television. Honolulu Magazine's Biting Commentary with John Heckathorn, presented by Hawaiian Airlines, debuts this Sunday, June 19, 2:30 p.m., KGMB.
The first episode was one of the most fun to tape. We talked to Arnold Hiura, author of Kau Kau Cuisine. Hiura is a thoughtful guy, with good insights into why we eat what we eat in Hawaii.
Then, for something completely different, Hiura manned the handheld Arnold Cam, as Derek Kurisu and I (mainly Derek) cooked up plantation style dishes at Kau Kau Stadium, in front of the Hilo KTA Superstore.
Derek is living proof that not all Hilo guys are quiet and soft-spoken. He's a whirlwind of energy–and not a bad cook at all. The shoyu beef you see us cooking up in the trailer was seriously good.
Take a look at the trailer below. It's what's in store for you on Sunday. You might have some snacks handy. This show will make you hungry.