VIDEO: The Honolulu Zoo welcomes three lion cubs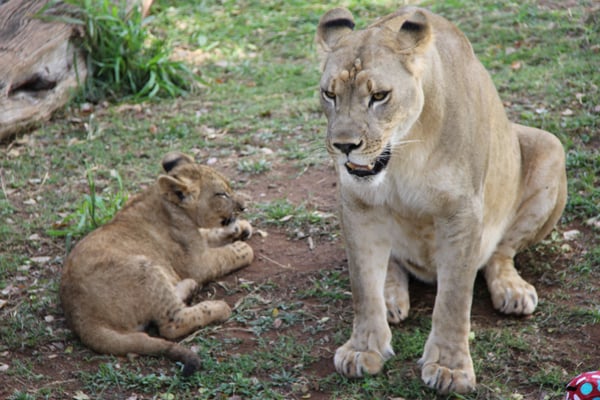 The Honolulu Zoo's new baby lions have three local students to thank for their names. The 4-month-old cubs, Kekoa, Alohi and Iolana made their debut at the zoo this past weekend.
Each of the cubs got their names from a student who wrote the winning haiku.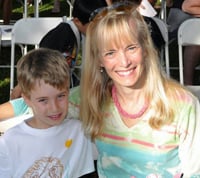 Punahou School second-grader Grady Garzo picked the name Kekoa (brave and courageous) for the male cub. The 8-year-old's winning haiku:
Lion cubs waitingEyes gleaming like golden moonsHidden in the grass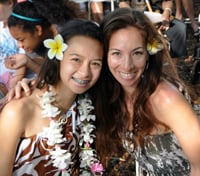 Kekoa's sister was named Iolana (to soar). Twelve-year-old Anuhea Parker, a Kamehameha Schools seventh-grade student, won for her haiku:
Majestic lionFierce as pounding surf, roaringLike distant thunder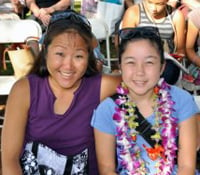 La Pietra School sixth-grader Anela Donachie, 11, also won for her haiku:
Creatures of beautyLive freely and hunt as oneLions, fierce and proud
Donachie named the female cub Alohi (to shine or sparkle).
"Supposedly this cub is very rambunctious and likes to run around, so the name was very appropriate," says Mayor Kirk Caldwell.
About a week ago, Caldwell got to hold the cubs in his lap and pet them. He even posted proof of his experience on Facebook. The male was the friendliest, he says.
"It was like having a big golden retriever puppy sitting in my lap. It had big paws and the cute-ish kind of blue-gray eyes," Caldwell says. "They looked really sweet. Of course, when they grow up, you don't want to be anywhere near them."
At the zoo, the cubs pounced around, played with each other and climbed on tree stumps, while mother Moxy looked on. We captured close-up video of the cubs:
For families who want to see the cubs, one of the zookeepers Tyris Perreira recommends visiting the zoo in the morning or afternoon. The cubs are usually fed around 9:30 a.m. and 4 p.m., she says.
"It's kind of cute, because they all sit on a bench—one, two, three," she says."And we just hand them the food with tongs, so they will eat little balls of meat."
Honolulu families should see the cubs as soon as they can, because once the cubs are old enough, they'll be transferred to other zoos as part of a sharing program.
In the meantime, the zoo is seeking Honolulu Zoo photos from keiki for an amateur photography contest. Winning photos will be displayed at the zoo and published on the zoo's website.