UPDATE: Moana's 110th birthday bash canceled, sort of. Entertainment now free.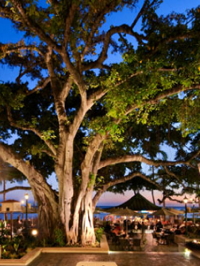 Due to labor unrest, the Moana Surfrider Waikiki has canceled its 110th anniversary food and wine gala, originally scheduled for Friday, Mar. 11.
There will be no Friday food gala with its 11 food stations, wine stations and chefs from Starwood properties around the state. Anyone who bought a $110 ticket will have their money refunded.
The show must go on, however. Now it's free.
The entertainment's been booked, so here's the schedule, on the old Hawaii Calls stage, Banyan Courtyard Veranda:
6:11 p.m. Jeff Petersen
6:30-7 p.m. Jeff Petersen with Chino Montero, hula with former Miss Hawaii, Nicole Fox
7-8 p.m. Kamaka Fernandez Trio
8-9 p.m. Amy Hanaialii and band
9 p.m. Cake Cutting Ceremony
9-11 p.m. Ellsworth Simeona
"There will be cake free for everyone in the courtyard, because, of course, we still want to celebrate the birthday," says Starwood's Joan Matsumoto.
To add to the festivities, the Beachhouse lounge will be offering tastings of Surfrider Wines, grown in Malibu Canyon (now a distinct California AVA). Surfrider wines feature Hawaii surfers like Kelly Slater and Sonny Garcia on the label, but they're serious, made by winemaker Christian Roguenant.
There will be 11 different wines to sample, and a 3-ounce pour of any two wines is $11. Both Beachhouse and the Banyan Court will offer their regular menus.
There's another piece of good news: Beachhouse chef Rodney Uyehara's $110 110th-anniversary historic four-course prix fixe will be available, starting Friday and assuming no strike, available through the month.
We'll bring you a first taste tomorrow.
Moana Surfrider, A Westin Resort & Spa, 2365 Kalakaua Ave., (808) 922-3111, moana-surfrider.com