Upcoming: Chopsticks & Wine, Oct. 5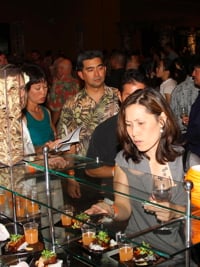 The first Chopsticks & Wine event, 10 years ago, had only five restaurants and a small crowd.
But the Honolulu Japanese Chamber of Commerce has steadily grown the event. The crowd now tops 1,000 guests, and this year's event will feature 16 restaurants:
Beachhouse
Gyotaku
Kai Market
Le Bistro
Mariposa
Marukai Corporation
RumFire Waikiki
Ruth's Chris Steak House
Sammy's Restaurant
Shokudo
The Hawaii Convention Center
The Kitchen at Times Beretania
The Poke Stop
Il Lupino
Wolfgang's Steak House
Five Star Buffet
Chopsticks & Wine has also outgrown its location, and will be held this year at The Hawaii Convention Center, on Oct. 5, 5:30 to 8:30 p.m.
The theme is "Mardi Gras: Let the Good Times Roll." There will be 16 food stations, and, perhaps to facilitate the good times, what the event is billing as "a vast selection of wine, beer and sake."
There's also an event inside the event. For an additional $75, guests can enter a private area to taste five high-end wines, including a Howell Mountain O'Shaughnessy Cabernet, in an Eisch wineglass that is theirs to keep.
Tickets are $90 before Sept. 21, $100 after that date. Reserved tables of 10 start at $2,000. For tickets and information: (808) 949-5531, email here, or visit honolulujapanesechamber.org.