Up on the Roof: Sweet Home Waimanalo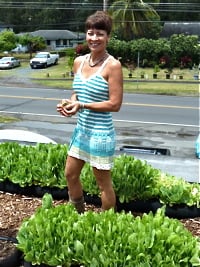 It's easy to spot Sweet Home Waimanalo. The little market cafe is in a former gas station right on the highway, a few picnic tables under the overhang roof where you used to fill up on Union 76 gas.

After it was Charley's Auto Service and before it was Sweet Home, the location housed painter Patrick Ching's Naturally Hawaiian Gallery.
Ching's large, multicolored horse statues still stand along the highway. The painter still sells his prints here and holds art classes in the backyard studio.
What you might not spot are the organic red and green curly top lettuces and Russian kale growing on the roof. Sweet Home can't let customers up there: Something to do with not wanting anyone to fall off.
"It's our roof, but not our farm," says Sweet Home co-owner Joanne Kapololu. The farm belongs to FarmRoof, a local company focused on designing and installing farms in an urban environment. (FarmRoof, incidentally, is headed by Alan Joaquin, husband of Hawaii News Now anchor Tanya Joaquin.)
"We use their produce, hope to grow more. We also use produce from Nalo Farms, other close-by farms," says Kapololu. "We want to be 100-percent locally sourced." The rooftop is pretty local, zero mileage.
The food at Sweet Home is designed to be healthy, the legacy of Kapololu's bout with breast cancer. "I beat it without radiation or chemo, by changing my lifestyle," she says.
The food's also fresh and fun: vibrant spinach salad with cranberries, orange segments and red onion. Vegetarian chili with some of the moistest, tenderest cornbread you've tasted. Local beet salad with rooftop greens. Slaw with rooftop kale.
There's even a nod to carnivores: things like pulled pork sandwiches and kalua pig braised in beer and smoked in the backyard smoker.
It's an inexpensive, order at the counter, eat a picnic table kind of place–just with a contemporary farm-to-table, organic, zero waste spin.
The farm-to-table movement in Hawaii seems to be gaining momentum. If you're interested in more, check out the "Farm to Table" cover story in the current issue of HONOLULU Magazine, on newsstands today.
Sweet Home Waimanalo, 41-1025 Kalanianaole Hwy., Waimanalo, 259-5737, sweethomewaimanalo.com.