University of Hawaii Offers Free E-Waste Disposal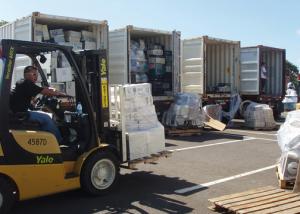 Do you have an old computer or printer that you need to get rid of? Skip the bulky-item pick-up or dumping it in the trash and recycle them instead.
Free e-waste recycling is made possible through the University of Hawaii's Education and Government E-Waste Disposal Days, a biennial statewide program that encourages the public to dispose of e-waste instead of tossing in the trash bins.
An estimated 400 million e-waste items are discarded each year, according to the Institute of Scrap Recycling Industries. According to the Environmental Protection Agency (EPA), 70 percent of the toxins found in U.S. landfills—including lead, mercury and cadmium—are caused by electronic waste, even though only e-waste only makes up 2 percent of landfill materials.
Nonprofits, schools, businesses and government offices can register here to drop off e-waste items Wednesday, Oct. 27 through Friday, Oct. 29 at UH Manoa, the John A. Burns School of Medicine, Leeward Community College and Windward Community College.
The public can drop off their items on Saturday, Oct. 30 at the same locations.
Drop off locations are also available on the Big Island, Maui and Kauai for Neighbor Island residents.
Recyclable items include computers, laptops, hard drives, cords and cables, cell phones, telephones, printers, fax machines, cameras, gaming systems, radios, TVs and more. Your old microwave or washing machine won't be accepted, however.
Before you recycle, consider donating your items first. Organizations such as Hawaii Computers for Kids and Hawaii Open Source Software Foundation provide the public, schools and nonprofits with donated working computers and other electronic equipment.
Don't forget to erase the hard drives first!