Turkey Roulade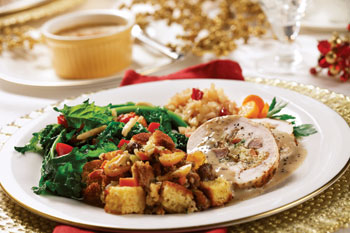 Turkey Roulade
A main course to a heart-smart, diabetes-friendly holiday meal.
Ingredients:
0 (Unit) boneless, skinless turkey breast, about 1 1/2 pounds
1 c (Cup) cornbread and dried fruit dressing (separate recipe on site)
0 t (Teaspoon) smoked paprika
0 t (Teaspoon) black pepper
0 t (Teaspoon) marjoram
0 t (Teaspoon) thyme
0 t (Teaspoon) sage
1 T (Tablespoon) canola oil
(Unit) plastic wrap
(Unit) kitchen twine
Instructions:
1. Preheat oven to 350° F.2. Place a large piece of plastic wrap on countertop.Place turkey breast on plastic and cover with additional  plastic wrap.
3. Using a meat mallet, pound turkey to rectangle about 10-by-6 inches, about ¼-inch thick.
4. Remove plastic wrap from top of turkey and spread dressing evenly lengthwise over surface, almost to edge. Roll turkey lengthwise. With kitchen twine, tie tolled turkey (roulade) lengthwise once and in several places along width.
5. In small bowl, mix together spices. Rub canola oilover all surfaces of roulade; rub spice blend evenlyover roulade.
6. Place roulade in shallow roasting pan, then place in oven. Roast for 45 to 60 minutes.
7. Remove roulade from oven and let rest 15 minutes before carefully removing twine and slicing into 16 half-inch slices.
Notes:
Photo courtesy of Family Features
Preptime: 30
Source: Family Features
Cooktime: 1 hour
Ready time: 2 hours