Tuesday, March 29 – The Public Bath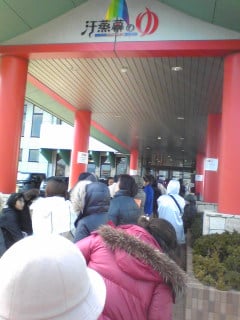 Many people in Sendai are still without running water and almost all do not have access to hot water. In Japan, most homes have on-demand, gas-powered hot water heaters. Their homes are too small for the solar or electrical hot water tanks found in most Hawaii homes. Unfortunately, the natural gas for cooking and hot water is not expected to be operational in Sendai until sometime in mid to late April. That's a long time to go without a hot bath in a nation where bathing is not simply part of a daily routine, it is a ritual to be enjoyed with passion.
Thankfully, in some neighborhoods there are a few public bath houses open. Public bath houses are quite popular in Japan. Many feature water pumped from nearby volcanic hot springs and their water is often marketed as curing arthritis, muscle inflammation and more. Medicinal properties aside, the baths are a great place to relax. That is, if you find bathing with neighbors relaxing.
Yasue happened upon a public bath house while driving through a nearby neighborhood yesterday. Like most luxuries in Sendai right now – gas, food, etc. – the bath house was marked by a long line of people waiting patiently to enter. For those at the end of line, the wait would take more than two hours. Once inside, patrons could bathe and soak away the stresses of daily life in post-quake Japan for up to 45 minutes at a cost of 500 yen (about $5). For many, this was their first opportunity for a hot bath since the quake struck March 11. The price was the same as it was prior to the quake. There has been no price gouging in Japan. The time limit was new however as the owners wanted to ensure as many people as possible had access to a hot bath – a real luxury in Sendai right now.