We Tried It: Zip lining at CLIMB Works at Keana Farms
Is 8 years old too young to go zip lining? We found out.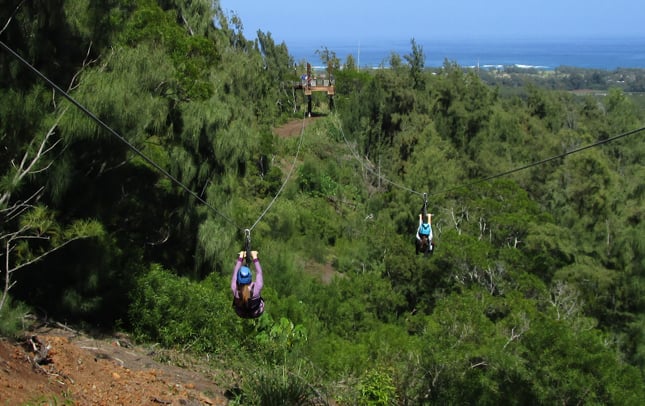 Photos: Lavonne Leong
Who: Two moms, two 8-year-olds (a girl and a boy), one gymnastic 13-year-old. Almost all first-time zip liners.
What: The zip lining course at CLIMB Works at Keana Farms
When CLIMB Works O'ahu opened its gates at Keana Farms on the North Shore, O'ahu got its first honest-to-goodness zip lining course. The reviews on Yelp are almost uniformly excellent. My first thought, looking at the website's gorgeous photos and videos of people whizzing through the air high above some of the island's prettiest landscapes, was, "About time O'ahu got a zipline!" My second thought: "Would kids even do that?"
So we went in with a question. CLIMB Works sounds like a great day out. But is it a great family day out?
I'll start with a spoiler: After it was all said and done, and we asked the kids for five words they would use to describe their experience, I got "awesome, awesome, awesome, awesome, and awesome." Hoping for a more nuanced take, I asked them what CLIMB Works could do better, and the 8-year-olds said, after a thoughtful silence, "I think it was all good, actually. Maybe have more snacks."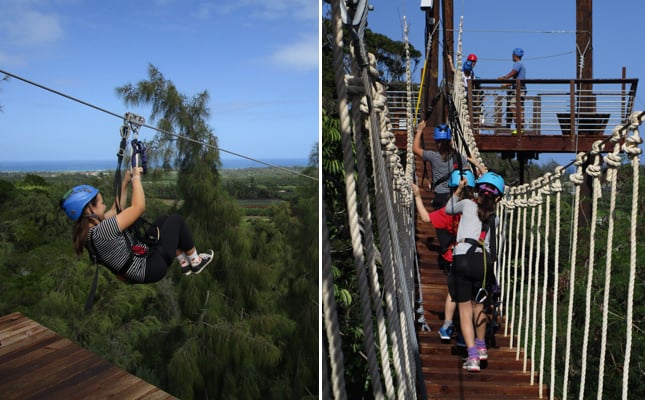 This kid-based conclusion is all the more impressive because those zip lines are huge, and I know plenty of 8-year-olds who are sometimes a little leery of rides at the state fair. But they zipped down the first one without looking back. When invited to, they zipped backwards. Then they zipped with no hands. Because neither of them weighed the minimum weight limit (80 pounds), sometimes they had to zip in tandem. By the end, they were zipping upside down, just for fun. Two of them got stuck and hung out on the line, chatting, while they were rescued by the ever-cheerful staff.
Which is all to say, zip lining is easier and more relaxing than it looks, even for nonathletes like me. And it's really, really fun.
Parents are going to want to weigh the high fun factor against CLIMB Works' hefty price tag: about $130 per person, a 25-percent kama'āina discount off the standard $170 price.
For that, you get a very well-run facility with a high-quality build that exceeds industry safety standards by "quite a lot," says Jesse McVey, the site's general manager. You get a relaxed, efficient, super friendly, ultra-safety-oriented staff that's working with excellent and plentiful equipment (like T-bars, and a soft braking system, neither of which are standard on zip lines). You get a three-hour experience that includes an ATV ride to the top with seven great big zip lines. To give you a sense of scale, the longest is 1,500 feet, and will be eclipsed by the eighth and last zip line which will be 2,500 feet long when completed some time in April.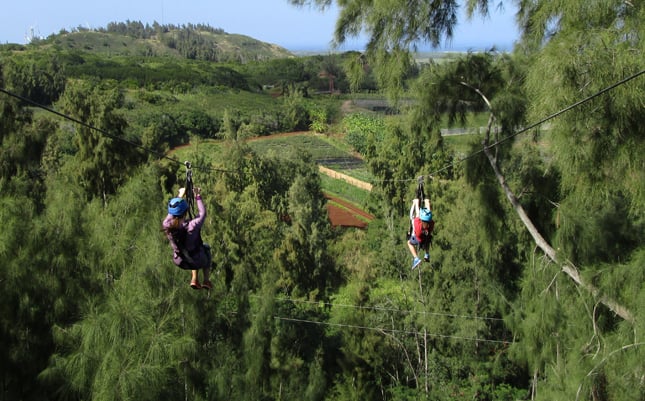 The lines sent us riding high over some lovely island scenery: wide expanses of green North Shore hills and farmland, blue ocean in the distance, and hardly a building in sight. The transitions between zip lining launchpads are mini adventures in their own right and, along the way, the guides provide information about farming and Native Hawaiian culture. If your experience matches ours, you end up with some very tired, very happy kids who have had a big adventure. McVey says that half of the zip liners at CLIMB Works bring children, so they make family fun a priority.
Yes, the price for a family of four kama'āina reaches well into the "night at Aulani" range. But if you do decide to take the plunge, the likelihood of a great—excuse me, "awesome"—time being had by all is high. Here are a few tips to make it even higher.
Bring the right kids. They don't have to be gung-ho Rambos-in-training, but they should be usually game for a new experience and kind of excited by the prospect of zipping through the air. The in-print policy at CLIMB Works says no refunds, although McVey told me they try to work with people who have a really good reason.
Feed the troops beforehand. There are a couple of zip line stations with water and one with a snack, but if we'd arrived hungry we would have been in trouble. Don't worry about motion sickness; one of us is prone to it and had no problem zip lining.
Put sunscreen on everybody. Just do it. Even if they complain. They'll thank you later.
Get there on time. CLIMB Works asks customers to arrive 30 minutes earlier than the official start, and that's for more than waiver-signing; there's a short warmup line at the bottom of the hill, where you'll learn the ropes before going up. You won't get a chance to practice if you get caught in Windward-side traffic, like we did, and don't leave a big enough margin.
Bring a camera with a neck or wrist strap, and put it in a pocket you can close. Mechanized photo ops dot the course. You'll be able to view those at the end, but they cost $20 per single picture or $40 per customer's digital photo set. The photos we took ourselves ended up being our favorites.
Go for it. Zip lining is a bit like flying, but without any need to flap your wings. If an 8-year-old can do it—and they really can—so can you.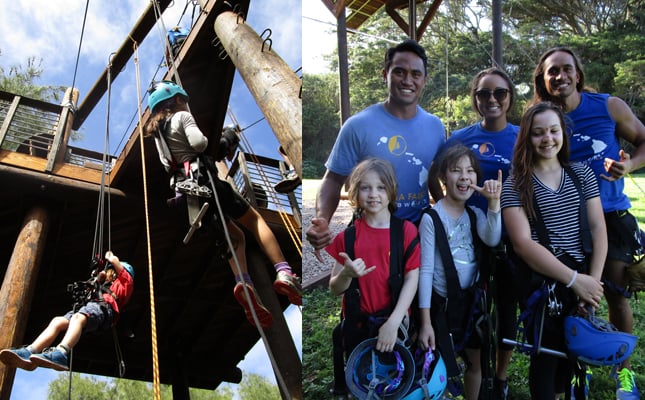 CLIMB Works at Keana Farms. 56-452 Kamehameha Highway, Kahuku. (808) 200-7906. climbworks.com/keana_farms