We Tried It: Ward Village Ice Rink
Our 8 tips to help you avoid crowds, decide what to wear and what to leave behind at this holiday season site.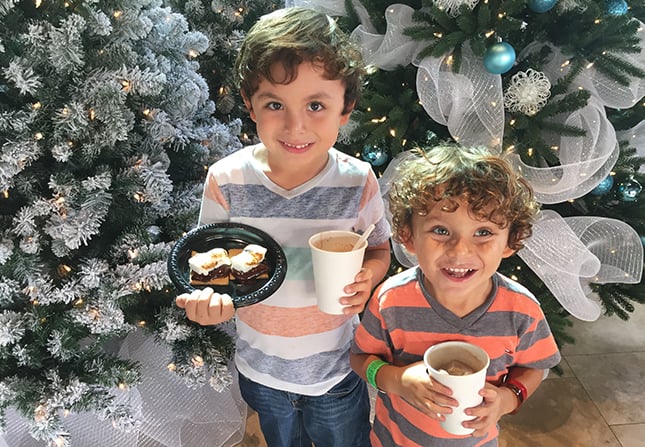 A post-skating treat. Photos: Jennifer Carlile Dalgamouni
An outdoor ice rink in 80-degree weather? It sounds unbelievable, but it's back in Kaka'ako for a second year. With more than 6 miles of pipes to keep it frozen, we wanted to see just how cool it is to skate with an ocean view. It's a fun, if somewhat pricey, activity for the whole family.
The rink and a snack bar serving hot chocolate and treats are in the public courtyard at Ward Village, just behind the old IBM building. A white, peaked tent covers the ice, skate benches and Christmas decorations. It looked like a pretty winter scene. Of course, on the other side of the rink you can see palm trees and Ala Moana Beach Park, reminding where you really are.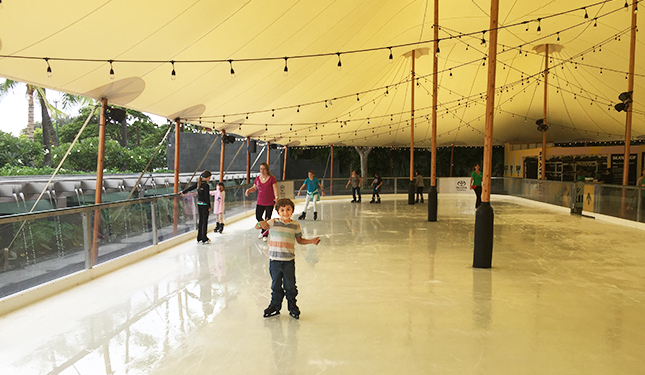 Skating, including skate rental, costs $16 per person for an hour-and-a-half session. Our family­–mom, dad, and boys, ages 4 and 6–went on Black Friday when the rink first opened, just after 10 a.m.
We got our skates and paper wristbands, put them on and headed onto the ice where only a handful of people were already skating. On the ride over, the kids kept asking if it would be real ice. Now that they were up close, they immediately started touching it, marveling at how cold it was until I had to tell them to stand up before someone skated over their fingers.
There are no walkers to help novice skaters get around so our boys clung to us and to the sides of the rink at first. Ice rink guards skated up and taught them a "safe" position, whereby if you feel like you're going to fall you bend your knees and put your hands on them.
Our 6-year-old was happy to try it out and became a lot more confident. He skated for the full hour and a half, only taking a break when the ice-cleaning machine came out for 10 minutes. By the end, he was doing a mix of walking, dancing to the music and completing jilted turns on the ice. Our 4-year-old let go a few times but mostly clung to mom and dad. He gave up after about 15 minutes and sat on a bench playing with dad's phone instead. We found out later he was coming down with a cold, so that might have affected his fun.
While my husband sat with our little one, I did a few solo laps reliving my youth of Ice Palace birthday parties. After skating, we hit the coffee bar for tasty hot chocolate and blow torch-toasted s'mores. Sitting at the white tables, next to Christmas trees, nursing sore post-skating feet, I almost felt like I was in a cold country. But, it was nice to leave in slippers, not snow boots!
Our Tips:
1. Go early in the day and in the season to avoid crowds. The rink is 112 feet by 34 feet, or about a quarter the size of the rink at the Ice Palace. It was plenty big enough for our little boys and a figure skating girl had enough room to twirl and jump. But, I think it would be hard to get much speed up when it reaches its 120-person capacity. Weekend and special evenings draw lots of teens and adults. Cheapskate Tuesdays will save you $5 per admission on December 13 and January 10, but the rink manager says that last year they sold 600 tickets in 5 hours. Also, skate with Santa (Dec. 10 and 17 from 10:30 a.m. to 2:30 p.m.) and meet the princess days (Jan. 7 and 14 from 10:30 to 2:30 p.m.) may be popular. Avoid the young adult-targetted "Beach Don't Kill My Vibe" Thursdays. See the full schedule on wardvillage.com.
2. Leave your valuables and Christmas shopping behind. There are no lockers and the staff cannot watch personal items.
3. Wear or bring tall socks and long pants but leave the jacket at home. No need to bundle up more as you're still in outdoor Kaka'ako. The venue sells sock and gloves for $4 a pair.
4. Get the right skate size. Men should choose skates one size smaller than their normal shoe size and women go two sizes smaller.
5. Go before you go. There are bathrooms in the Howard Hughes building adjacent to the rink, but you will need to remove your skates, making emergency runs tricky.
6. Leave room for hot chocolate and s'mores. Both feature homemade marshmallows from Cakeworks for $4 for cocoa and $4.50 for s'mores. The bar also serves sandwiches, salads, coffee and bar drinks.
7. Need extra help? Schedule a private lesson. If you or your keiki want a helping hand, you can schedule a lesson with assistant manager and certified ice skating instructor Donnel Pennington. Private lessons for one or two skaters cost $20 for 15 minutes or $40 for 30 minutes. Her number is 805-624-2348.
8. Shop first, skate second. Village Shoppers get $1 off the admission price when they purchase $10 of items from participating Ward Village merchants. See which stores will give you the coupon on wardvillage.com/events/ice-rink.
Ward Village Ice Rink is located in the public courtyard outside the former IBM building in Kaka'ako at 1240 Ala Moana Boulevard. It is open 4 to 9 p.m. Mondays through Thursdays (closed Tuesday, Dec. 20), 10 a.m. to 10 p.m. Fridays and Saturdays and 10 a.m. to 9 p.m. Sundays through January 16. For group skating or private parties contact the manager at 840-9420 or check out wardvillage.com/icerink for a full list of events.