We Tried It: Keiki Afternoon Tea Party at the Moana Surfrider
Child's play meets adult sophistication at this playful take on a tasty tradition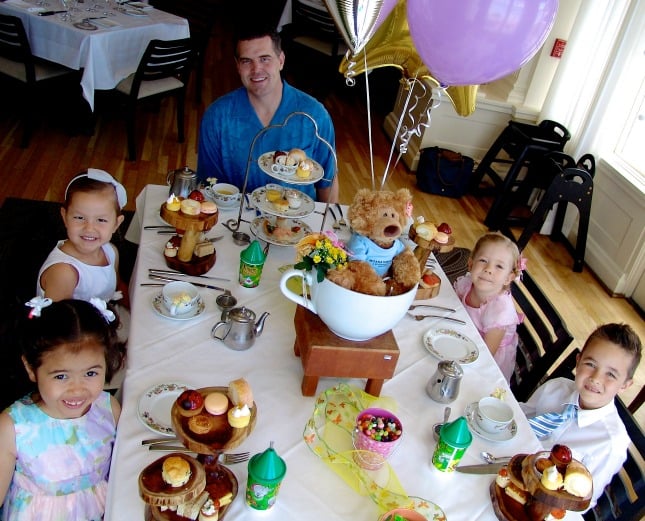 Our satisfied party. Photos: Cathy Cruz-George
Have you ever wondered how your children would fare at a fancy establishment? You know, a five-star venue where cloth napkins must remain across little laps (and not on heads like origami hats). Being a kid in such a place can be tough! The food looks different. Grownups talk in hushed voices. Even utensils feel heavy.
There's a new fine-dining option that your kids might like: The "Keiki Afternoon Tea Party" at the Moana Surfrider, a Westin Resort & Spa launched this summer, offering a new twist on the afternoon-tea tradition at Waikīkī's oldest hotel.
The concept is cute. It takes place on The Veranda, a Victorian-style restaurant shaded by a banyan tree that is also the setting for afternoon tea. Children's settings come with little sandwiches, pastries and non-caffeinated drinks. Adults can opt for the Moana Classic Tea (sandwiches, tea, pastries, pot de creme and biscotti) or the First Lady Tea Service (the latter plus berries and dry rosé). And here's the best part: The table is adorned with candy, balloons, garden-themed decor and a teddy bear.
We took four children – ages 4 to 7 – to the Moana Surfrider on a Thursday afternoon in July to try it for themselves.
At 11:45 a.m., we pulled up to the hotel's valet-parking zone off Kalākaua Avenue and waited about five minutes for an attendant. As usual, the hotel was busy. A Japanese bride in a white gown stood curbside with her wedding party. Checked-out guests waited for rental cars. Middle-aged couples sat on rocking chairs outside the lobby.
Then nerves struck me. "What did I get us into?" I thought. (The kids were too young to sit still at a tea party! What if they dropped fine china on the floor? What if they fought over the balloons? Or worse, popped them?) As I panicked, the valet attendant took our keys, and we walked into the hotel.
The lobby was calming – breezy and open-aired. The Veranda is a mere 30-foot walk beyond the hotel's main entrance.
A hostess led our party of five past outdoor tables and into the covered restaurant, where a long table by the window peered at sunbathers on Waikīkī Beach. The table itself had pastel butterflies, faux flowers and bowls of jellybeans and gummy bears. A brown teddy bear was the centerpiece.
What a feast for little eyes. The kids got excited – "Candy!" "Awww, cute!" Then they climbed into chairs, white cloth napkins across laps. (But of course.)
Each child's setting had a cup and saucer, and an individual teapot filled with water. It also included a plastic cup with either milk or juice of choice (pineapple, orange or apple).
Soon, sweets and sandwiches arrived on "tea trees," which are tri-level serving trays made from round slabs of wood. Brilliant set-up! (Some children might agree to eat their veggies if parents served dinner every night on these trays.)
The bottom tier held fancy versions of classic, favorite kid flavors: a Nutella and banana sandwich; grilled chicken salad on mini puffed pastry; a peanut-butter-jelly sandwich; focaccia pepperoni toast with melted mozzarella; and a smoked ham and swiss cheese on brioche.
On the middle tier was a single scone. The top tier was covered with a colorful assortment of pastries. We counted a pink macaron, brown macadamia nut cookie, white haupia cake roll, and a yellow cake made with lilikoi curd and Devonshire clotted cream.
What drew the most "wows!" and shrieks from the kids, however, was a ladybug-shaped tart perched on top like a Pokemon GO character. The tasty little insect is made of chocolate mousse and red raspberry glaze – a signature item by Pastry Chef Nanako Perez-Nava.
Half the kids dove into their sandwiches. The other half went straight for the sugar. The 5-year-old girl spent most of the time licking her pink macaron until it got soggy and flat. Then she took several bites of each pastry and sandwich. The macaron still won her over.
The 6-year-old girl ate a handful of jellybeans and gummy bears before cautiously picking up the ham-and-cheese brioche. Surprised at the familiar taste, she polished it off. "That tasted super good!" she said. Then she went back to candy.
The gourmand in our group was the 7-year-old boy. He ate all his sandwiches and said his top choice was the pepperoni mozzarella focaccia toast. "I like the white stuff," he said, pointing to the cheese. He even negotiated a swap with the 5-year-old girl: Her cheesy toast for his lone macaron.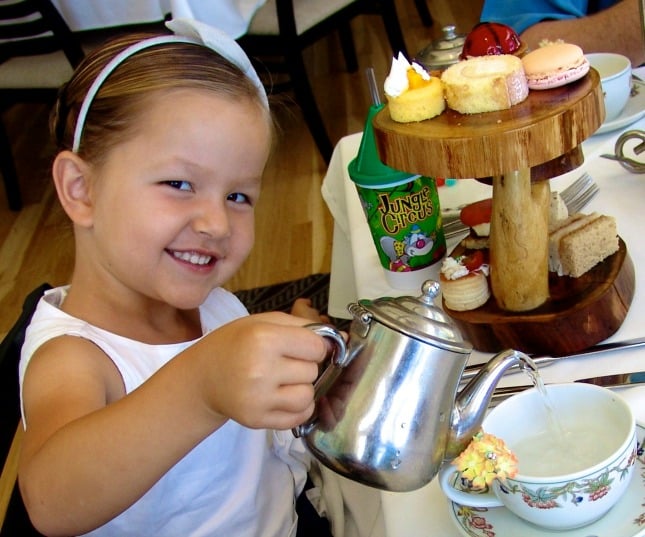 The boy's sister, the 4-year-old, adored her teapot of water. In between bites, she took gulps and refilled her teacup at least a dozen times in a row, proud to handle a grownup task.
Overall, the winners were the Nutella banana sandwich, pepperoni-mozzarella toast, ham-cheese brioche, macaron and scone. Ladybug also was a top choice. But the kids insisted on taking theirs home to play with. (Half-eaten mousse bugs survive well in air-conditioned cars, by the way).
As a parent, I thought the food was appealing and kid-friendly. The amount was enormous for younger children. We all ended up with take-out boxes.
And our party definitely left its mark. Nutella and orange juice were spattered all over the white tablecloth. Even the hardwood floor bore bits of food. We left a tip on the table, picked crumbs off the floor and apologized profusely for the mess. (Hey, at least the china stayed intact.).
Back at the hotel's busy main entrance, it took about 15 minutes to get our cars.
But the kids didn't mind one bit. They were having so much fun on the wooden rocking chairs. It was child's play all over again!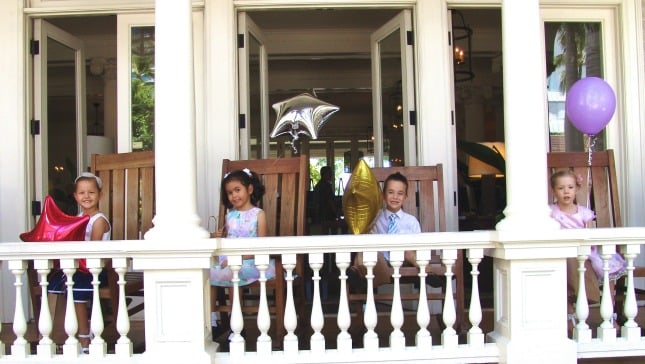 OUR 5 TIPS
1. Plan to stay for about 90 minutes to two hours. That's just enough time for the kids to eat, drink and be merry.
2. Invite friends. You will need a party of at least five for this special service.
3. Keep the kids ages in mind. The recommended age for the party is 5 to 12 years. There are no restrictions but if you have younger ones with you, you may want more adults to help out. For older kids, the hotel recommends one adult at the table. For younger ones, the recommendation is one adult for every three children.
4. Working with a budget? You can get the same food minus the table decorations and candy by ordering the Keiki Afternoon Tea instead of the Tea Party. That is $22 per person, versus $40 per person for the whole party.
5. Plan ahead. You do need to make reservations at least 72 hours in advance. But you may want to call even earlier as there is only one seating per day.
Keiki Afternoon Tea Party is available daily at noon, except on holidays and special events. $40 per person. Call Masako Carter for reservations, 924-4778. You can also book online at moana-surfrider.com.
Moana Surfrider, a Westin Resort & Spa, 2365 Kalākaua Ave.
**The Moana Surfrider, a Westin Resort & Spa, provided this complimentary Keiki Afternoon Tea Party for four children and one adult.