We Tried It: KA WAA Lū'au at Aulani
Our 9 tips to Aulani, a Disney Resort & Spa's new lū'au.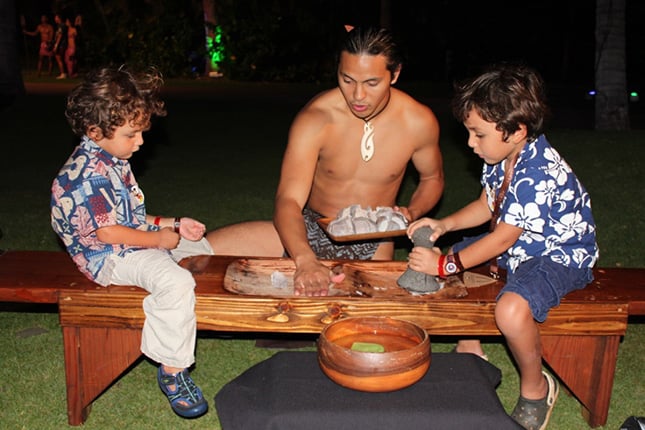 Photos: Jennifer Carlile Dalgamouni
Aulani, a Disney Resort and Spa just launched a new lū'au with keiki in mind. "KA WA'A" or "The Canoe" lū'au promises children's traditional Hawaiian crafts and activities and a keiki buffet including POG mocktails for $119 for adults, $79 for kids. While our boys are a little too wild for most dinner shows, they are big Mickey and Minnie fans, so we tried it out. Families expecting a Disney-supersized extravaganza, complete with big character-focused performances may be disappointed. But we found plenty to keep our boys entertained.
After battling rush hour traffic from Honolulu to Ko Olina, our boys were ready to run. When we arrived at the Halawai Lawn, smiling performers draped keeper-quality lei (kukui nut, shell and fish hooks for the boys) around our necks then we were handed POG and coconut rum cocktails. Kids receive POG and maraschino cherries. Tasty, but the boys quickly left the drinks behind to get into the activities.
First, our boys did ku'i kalo (taro pounding). Our 6-year-old pounded and mashed the taro into a chunky paste, but our 4-year-old squealed with laughter as he repeatedly hit the taro so hard it flew in the air and landed in the grass. Afterwards, both were willing to taste poi. Next, we wandered into the crowd of kids making orchid lei. A hula dancer helped the keiki string orchid into purple and white bracelets. Note, lei needles are pretty sharp, so my husband jumped in to help our older one. I steered our 4-year-old toward the safer craft of kāpala printing. He dipped carved wooden stamps in colorful ink and pressed them down on a card of paper.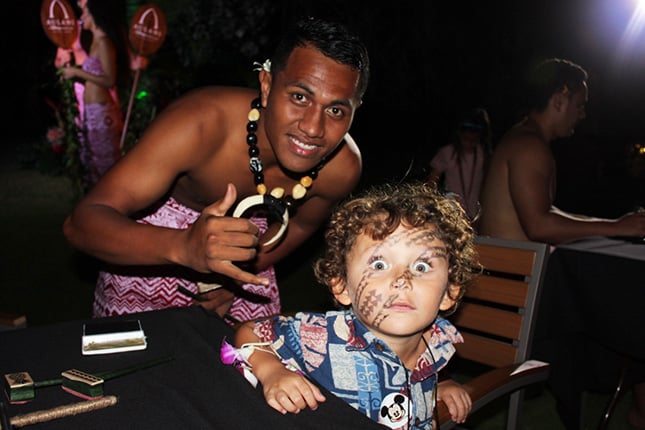 The real hit was the face tattoos. Kids can pick from a pineapple, flower or ancient Hawaiian warrior tattoo. Of course, both boys wanted the warrior and sat nicely while the artist dipped a wooden stamp in black ink, placed it on their faces and tapped the back of it with a stick to make an even imprint across their forehead, eyelids, cheek and nose. But, most of the keiki at the lū'au (or most likely their parents) opted for small hand tattoos instead of full-face art.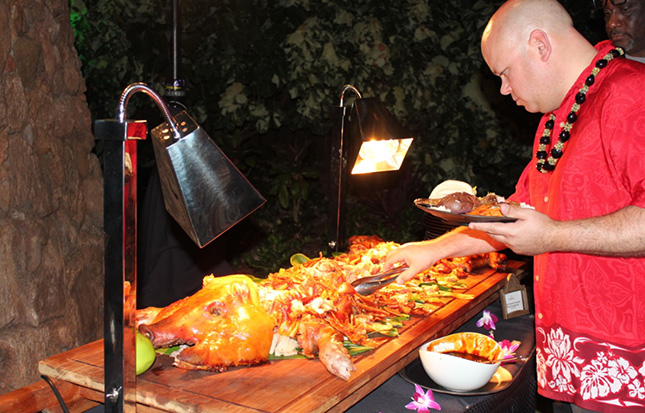 By the time the Aulani staff ushered us back to our tables, our boys were excited, hungry and squirming everywhere, so we were relieved kids were allowed to get their dinner from the buffet first. The boys enjoyed Tiki chicken tenders with pineapple BBQ sauce, Mickey and shaka-shaped pasta, carrot and celery sticks and fruit cups. You won't find the usual Hawaiian fare in the adult luau either. We did like the super fresh lomi lomi salmon and ahi poke. The rest of the dishes were more fusion than authentic, but it was tasty. Some of our favorites included the local catch with macadamia nut sauce, Alae sea-salt-crusted prime rib and the boys also loved the sweet potato duet of pureed Okinawa and 'Uala potato. There were other creative local touches such as the taro and guava croutons for the salad, taro macaroni salad and banana bread pudding. No kālua pig, but there was a braised pork, imu style that was delicious and tasted just like the real thing in addition to another whole, roasted pig.
Then it was time for the show. Mickey and Minnie Mouse opened it up with an invitation for the kids to dance on stage. The cameo appearance was brief. Next up, Noa, a local storyteller, narrated the history of the Tahitians who traveled by canoe, following the stars, to the 'Ewa Plain. Performers use traditional Hawaiian dance, including hula kahiko and modern hula auana to bring taro farming, fishing, sugar cane production and the culture of the area to life.
My husband and I thoroughly enjoyed it all, but the kids started to get bored. Our 6-year-old perked up when the keiki were invited to play Hawaiian instruments including the 'uli 'uli and he took photos with some of the dancers after the show. Our youngest, however, took off to roll in the grass, literally. I was embarrassed but at least the grassy area was off to the side so he could play without distracting others.
I was about to give up when Noa started telling stories about Maui. Lit torches and fire dancing got my little boy's attention and were the highlight of the production for both kids. Our boys went through the performers line twice, hugging all the dancers and posing for photos.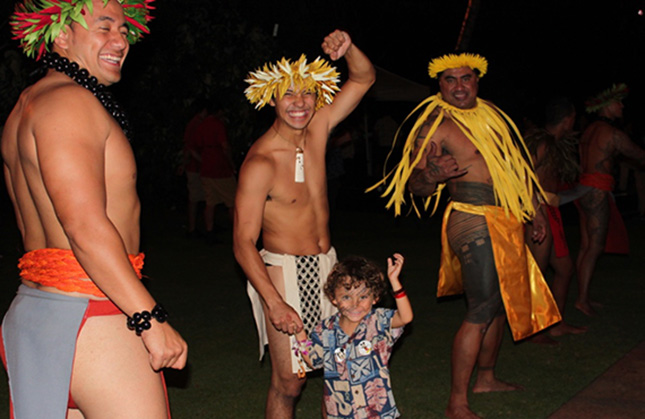 Our oldest fell asleep almost as soon as he got in the car while the youngest cried "wrong way, go back" most of the way to Honolulu. So, all in all, it was a success. And, despite odd looks from other parents, their KA WA'A Lū'au face tattoos were a hit with their friends at school the following day too.
Our Tips
1. Consider your kids. It's a great experience for most kids and adults, especially children who enjoy Hawaiian culture, theater, dance and have adventurous palettes. But, although Mickey and Minnie make an appearance it isn't a character event geared to small children.
2. Account for travel time. Aulani Resort recommends leaving Waikīkī by 3:30 p.m. to arrive by 5 p.m. on a weeknight. The lū'au is also 10 to 15 minute walk from the parking lot.
3. Get there when the doors open. The activities and crafts end when dinner begins. So you will want the full hour so you have plenty of time to try everything while you have your cocktail. Assigned seating is also first come, first serve.
4. Supervise your little lei makers. The needles are very sharp and about 6-inches long.
5. Get your kids to try the grown-up food. The keiki buffet is great, but they'll get a far more cultural experience trying the Hawaiian foods. My boys loved the shoyu chicken, suckling pig with hoisin sauce and the potato puree.
6. Hurry for the hula and instruments. Dancing with Mickey and Minnie Mouse and playing Hawaiian instruments during the show were a lot of fun for our kids. They are short experiences so if your child doesn't go up to the stage immediately, he or she will miss it.
7. Go wild with the tattoos, but be ready to keep them for a while. My boys wore them for two days and it was still difficult to fully remove.
8. Watch the weather. Workers handed out clear umbrellas when we had a little shower. But, the show will be cancelled if there's a heavy downpour or steady rain.
9. Don't forget to get your parking validated. Four hours of self-parking will be validated for non-resort guests.
KA WA'A lū'au is held at Aulani, a Disney Resort and Spa's Halawai Lawn, 92-1185 Ali'inui Drive, Kapolei. Shows are 5 p.m. to 8 p.m. Wednesdays and Saturdays. Admission starts at $119 for adults and $79 for keiki 3 to 9 years old. Children under 3 are free. For reservations call 674-6850, resorts.disney.go.com/aulani-hawaii-resort
HONOLULU Family received free admission to the media launch of KA WA'A.