We Tried It: E-magine Fun! at Pearlridge Center
The Eurobungy is back along with a virtual reality roller coaster and interactive tech games.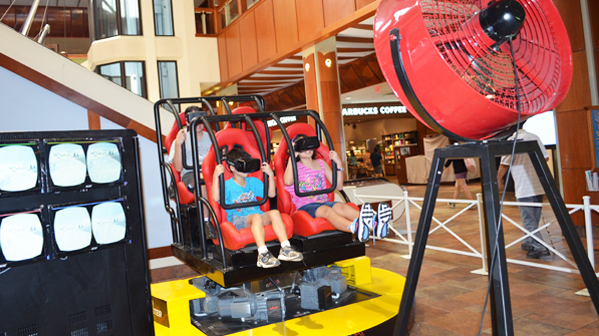 Photo: Christi Young
The virtual reality roller coaster.
Editorʻs Note: We last tried E-magine Fun in 2016 but the details have been updated for 2018.
You may not remember the name "E-magine Fun," but if you visited Pearlridge Center last summer, chances are you didn't forget the Eurobungy, a trampoline/bungee hybrid that sent kids and adults soaring above the second floor in the Uptown Center Court. This year, the Eurobungy and Virtual Reality Rollercoaster is back. But instead of spreading out through both the Downtown and Uptown areas, the free and paid attractions are all in the center court area of Uptown, located below the escalators.
We got a preview of the splashier paid attractions with our group and found something to interest each of them, from the rollercoaster-loving 12-year-old to the more technology-driven teenager.
Here's one main tip for the exhibit-–Go early. Families know this is the way to avoid the crowds at most family-friendly events. But there is another reason you should visit E-magine during off hours. When the area is full, the average time you will get on an attraction is about four minutes. But, if no one is waiting for a turn on the Eyeplay Interactive Gaming area or the Rope Maze, you will get some extra time. Pearlridge Center tells us the mall gets busy in the early afternoon and continues to be booming through the early evening. So we suggest arriving right at 10 a.m.
The Attractions
VR Roller Coaster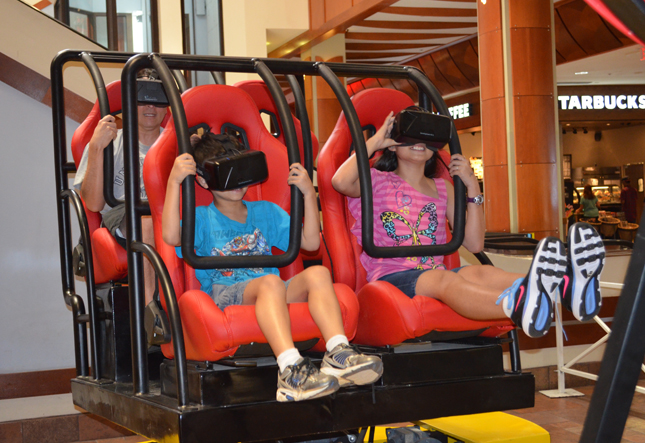 We've ridden virtual reality roller coasters before, but one thing that separates this from others is the opportunity to design your ride. You start by standing in front of a large touchscreen and drawing your ideal track with your finger. The program than creates a 3-D rendering, which was pretty impressive.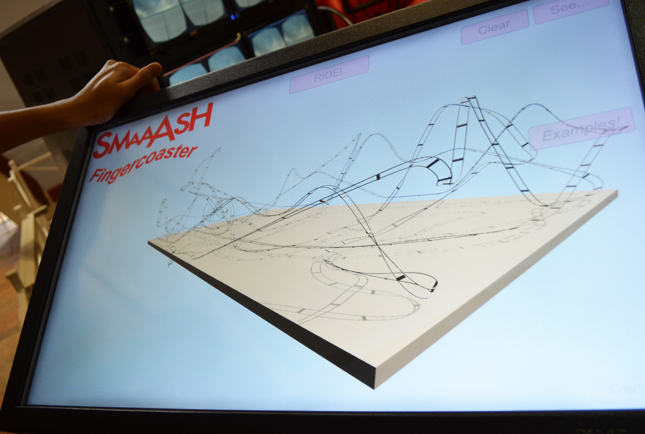 Photo: Christi Young
Next, you choose your location, then climb into the coaster seats, put on the goggles–officially called the Oculus Rift virtual reality head-mounted display–and get ready to ride. The eyepieces are what makes it, giving you a 360-degree view of the world you chose, so no matter which way you turn, the virtual world continues. A giant wind fan helps give you the feeling of rushing down and around curves. The experience was real enough to elicit small shrieks from our riders.
Verdict: It was a winner. The roller coaster fans in our group said they'd be willing to wait 15 to 20 minutes for their customized minute-and-a-half thrill.
VR Roller Coaster Notes:
Riders must be three feet tall.
Kids younger than 12 years must ride with an adult.
The ride seats four.
$4 for one ride.
Tip: Don't skimp on the track. The longest ride you can get is a minute-and-a-half. If you create a short track, the ride will be shorter. So, keep drawing until the program stops you.
Eurobungy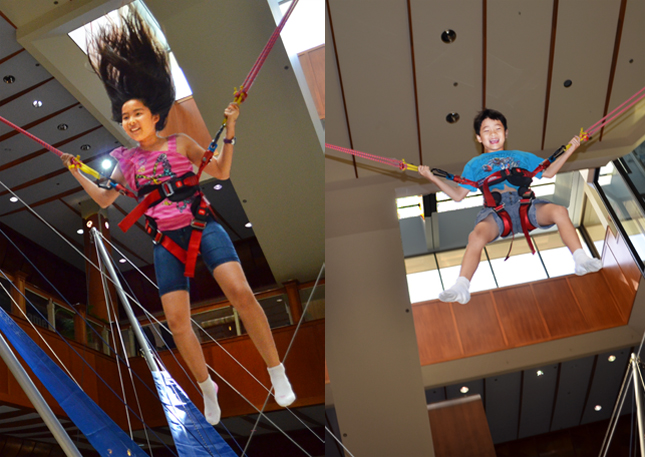 Photo: Christi Young
Soaring on the Eurobungy.
The four inflatable trampolines and bungee cords take up the most space in Center Court and the people soaring through the air certainly make a big impression. So it's no surprise that this is back for a second year. Last year, our kid testers didn't do many tricks but wanted to go again after our test run,. This time around, our 12-year-old did a few somersaults and the 7-year-old went soaring. You do have to jump as well and pull on the bungee cords with your arms, and you have to pull hard if you want to catch serious air, so the activity was tiring. For bigger kids, the snug harness can get uncomfortable so you may have to ask for adjustments. But our youngest jumper didn't look like he ever wanted to stop.
Verdict: Yes, please, again!
Eurobungy Notes:
Weight limit is 20 to 220 pounds. Kids must also fit the harness so if your child makes the weight minimum but is too small for the safety feature, he or she is out of luck.
Kid Tip: If you want to do flips and somersaults, do them early. If you wait too long, you may be too tired to try it.
Jump lasts about seven minutes.
$11 for one ride.
Other Activities
The rest of the activities cost $5 for an all-day pass to play Snookball, Eyeplay, rope maze, giant puzzles, tic tac toe and checkers. Here is the rundown.
New: Snookball
For the first time, E-magine Fun will also offer Snookball. Pearlridge Center describes it as a game that combines billiards and soccer. Our searches online found video of a game where kids and adults kick soccer balls painted like pool balls into corner pockets.
Eyeplay Interactive Gaming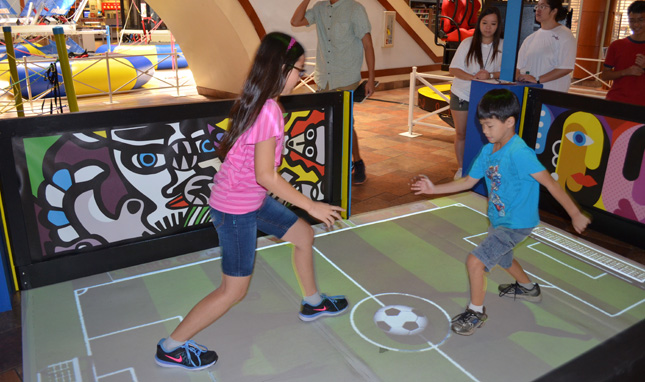 Photo: Christi Young
Tackling the Soccer Field on Eyeplay.
For those who aren't big fans of big drops and quick turns, this interactive game will be more their speed. One of 17 games is projected on the floor so you can kick a virtual soccer ball, burst virtual bubbles or step on virtual dragons. Our oldest and youngest testers liked this best, probably because the 14-year-old and 7-year-old brothers could face off against each other on the soccer field.
Verdict: It was the only attraction one of our kids asked to try again as we were leaving. At $5 for all-day play, it's also one of the most affordable items at e-magine.
Eyeplay Notes:
Accommodates up to eight people at once, so kids need to be ready to jump right in and play nicely with others.
Each player gets about two minutes a turn.
During busy times, players will probably not be able to select their game.
Kid Tip: Watch your shadows. Our 14-year-old says it seemed to confuse the game. Example, if you are trying to kick the ball one way but your arm swings in a different direction, it could send the ball the wrong way.
Rope Maze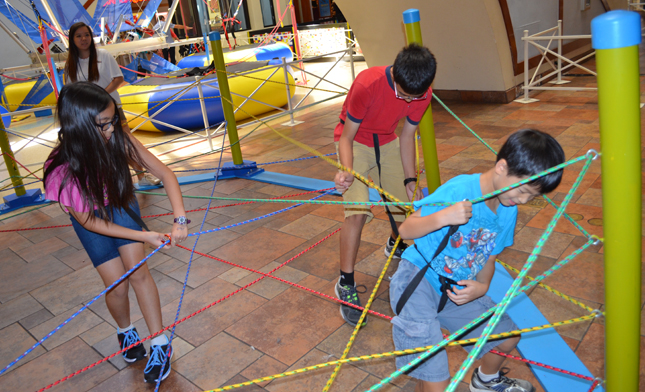 Photo: Christi Young
Racing each other in the Rope Maze.
The kids liked this one. I loved it. Kids are attached to colored ropes with a caribiner clip then race against each other through a web of ropes to get back to their position first. It is the lowest-tech attraction available for the exhibit, but it was great (and sometimes hilarious) watching the kids diving under, climbing over, and basically weaving in and out of the ropes as quickly as they could. It also requires some brainpower to avoid getting tangled in the web. All three were a little out of breath once they finished.
Verdict: They gave it nods of approval but it didn't elicit the shouts of joy heard at the other attractions.
Free Fun
Free fun for E-magine includes giant Four-in-a-Row and checkers games, magnetic puzzles and brainteaser floor mazes. The floor mazes entertained our kid testers longer than they anticipated, so be ready to stand your ground if others join you in mid-play.
E-magine Fun runs through Wednesday, Aug. 15 in the Uptown Center Court. Attractions are open during regular center hours. $5 to $11. pearlridgeonline.com