We Tried It: Art Explorium's Kids' Workshops
Kids learn from architects, designers, jewelry designers, painters and more.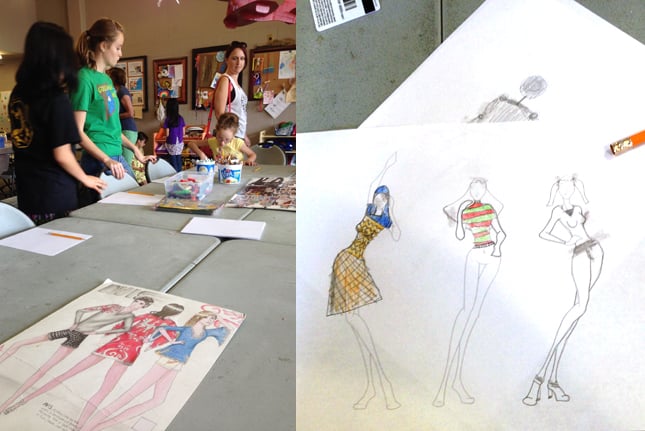 Who: 2 eight-year-old girls.
What: The Art Explorium's artist-led kids' workshops.
When: An hour-and-a-half on a Sunday afternoon.
In the past year or so, the Art Explorium in Kaimukī, a young nonprofit founded on the idea that art can be made from anything, has greatly expanded its range of offerings. The welcoming studio's signature "trash to treasure" bins are still brim-full of colorful scraps, bottlecaps, and bits of ribbon, but to their signature open studios, they've added afterschool art series and sewing classes for children and adults. They've also reached out to local and international practicing artists to offer a range of one-of-a-kind workshops for kids.
When I heard about the workshops, I signed my older daughter up for the first one available, Fashion Illustration, and we brought along her artsy friend, to road-test the workshop idea. This one was taught by Ryan Hanaoka, a young fashion designer, stylist and blogger who came prepared with an inspiration board of fashion illustration through the ages and a slew of body templates on which the ten girls, who ranged in age from 6 to 9, could draw their dream outfits.
What followed was 90 minutes of free-form fashion fun, with Hanaoka circling the table and dropping tips about how to sketch, for example, a high heel. I was amazed at the sophisticated fashion vocabulary the girls possessed; even if they couldn't name them, they created long fishtail skirts, cowl-necks, asymmetrical hemlines, and more.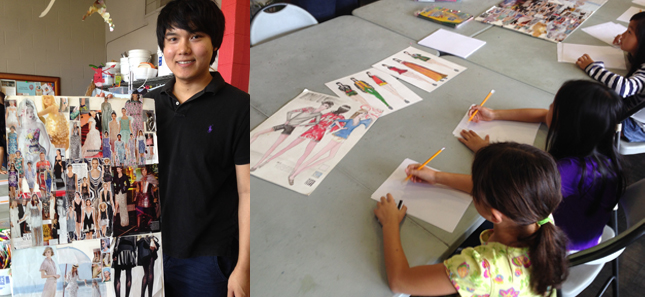 Though the end of the class was more chaotic than the beginning (let's just say Hanaoka was lucky the workshop was self-selecting for well-behaved girls), the kids got some awesome illustrations out of it, and as part of a weekend day or weekday afternoon, it worked well: the Art Explorium is cheek-by-jowl with Kāhala Mall, Via Gelato, Koa Pancake House, Bead It, and all the other charms of Kaimukī. Most parents dropped off their child and returned looking distinctly refreshed.
Every workshop is different, but at each one, the kids get the benefit of an actual practitioner who loves what he or she does. Others have featured architects helping the kids build their own tiny fantasy buildings, gardeners facilitating the creation of mini-greenscapes, or lauhala-weavers sharing their craft. Many of them have kids themselves, and/or experience teaching them. Janice Staab, the explorium's education coordinator, says, "We try to bring artists in not just to teach, but to do what they're passionate about."
Art Explorium, 1132 Koko Head Ave. 312-4316. See the updated list of workshops on artexplorium.org.