Trail Mix: Watch Neil Abercrombie vs. David Ige on PBS Hawaii
Each week, HONOLULU Magazine's political team compiles a mix of observations about Hawaii politics. Here are our notes from this week, ending June 6.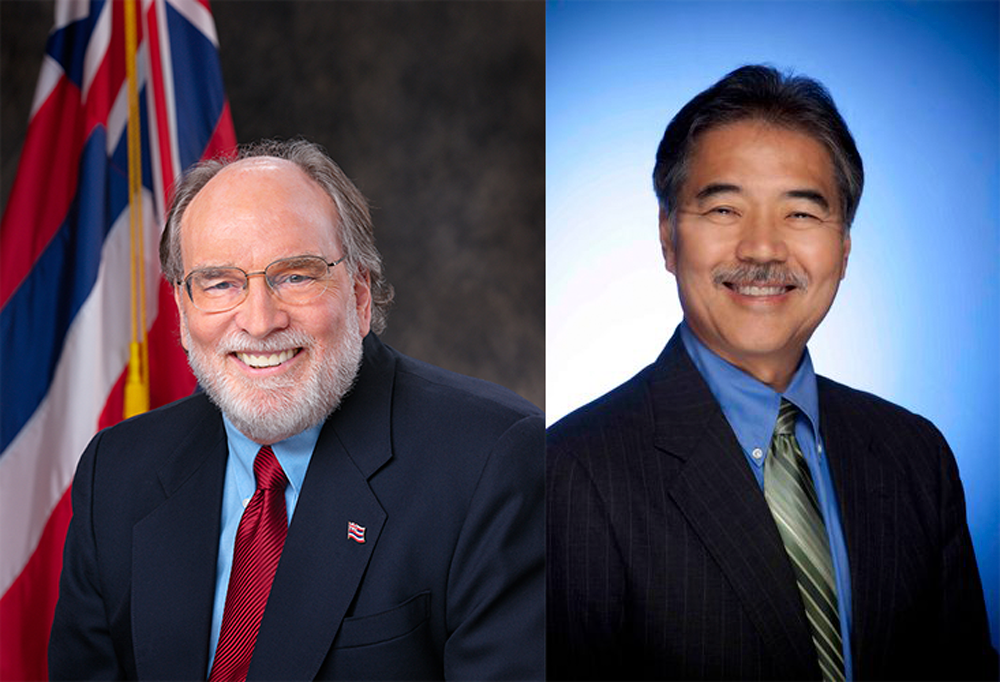 The two candidates in the Democratic primary for governor, Gov. Neil Abercrombie and his challenger Sen. David Ige, have agreed to appear together on Island Insights on PBS Hawaii on July 3, according to Shane Peters, communications director for Abercrombie's campaign.
Earlier this week, the candidates announced they'd participate in a public debate, hosted by the Honolulu Japanese Chamber of Commerce, on June 24 at the Manoa Grand Ballroom. The forum will be moderated by Hawaii News Now's Howard Dicus, but you'll have to cough up some cash to see it. Tickets are $35 for HJCC members and partner organizations and $45 for general admission and includes lunch.
So far, no other TV debates are scheduled, but, Peters says Abercrombie and Ige have agreed to at least one other broadcast debate.
11 a.m. – 1:30 p.m., June 24, Japanese Cultural Center, Manoa Grand Ballroom, hjcc.org.

Ad Watch: Colleen Hanabusa Airs Second TV Ad
In her second TV spot in as many weeks, U.S. Rep. Colleen Hanabusa issues a rebuttal to Sen. Brian Schatz's campaign, which has been focusing on Social Security and Medicare as points of distinction in the U.S. Senate primary race.
Just last week, Schatz told HONOLULU Magazine, after his endorsement from a national Social Security and Medicare group, that he considers himself to be the only candidate against the Simpson-Bowles plan, which many say would cut benefits for seniors. Hanabusa strikes back in her new ad, continuing a line from earlier in the campaign that Schatz is attempting to "scare the kupuna."
In "Protecting Our Kupuna," Hanabusa speaks directly to the camera about her record on senior entitlements. "In my two terms in Congress, I've voted again and again and again to protect Social Security and Medicare and prevent changes that would reduce benefits. … Don't let anyone tell you different," she says.
Here's the full TV spot so you can see for yourself:
Hannemann Endorsed by SHOPO for Governor
Hawaii's police union, the State of Hawaii Organization of Police Officers (SHOPO), endorsed former Honolulu Mayor Mufi Hannemann for governor.
SHOPO President Tenari Maafala said the union supports Hannemann because of his record of public safety and law enforcement as Honolulu mayor.
Hannemann might be having a case of déjà vu: SHOPO and Maafala four years ago endorsed Hannemann in his unsuccessful Democratic primary run against Neil Abercrombie for governor.