Trail Mix: Sen. Brian Schatz Pulls Into the Lead
Each week, HONOLULU Magazine's political team compiles a mix of observations about Hawaii politics. Here's our notes from this week, ending May 29.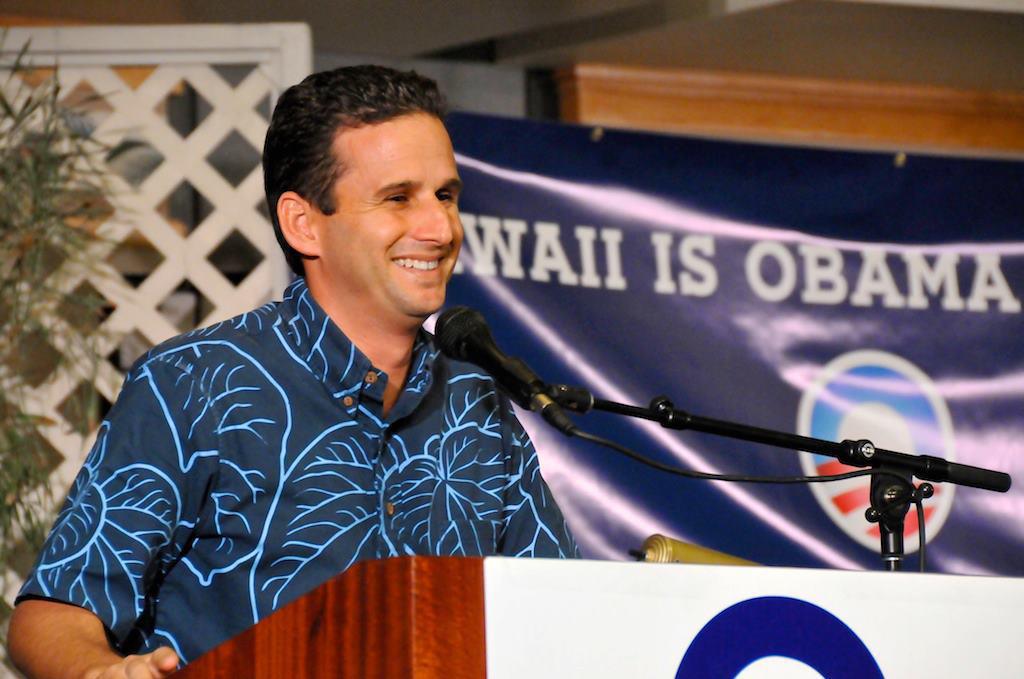 Colleen Hanabusa Trails Brian Schatz in New Poll
U.S. Sen. Brian Schatz appears to have opened up a lead over U.S. Rep. Colleen Hanabusa in the hotly contested Democratic primary for Hawaii's Senate seat, formerly held by the late Daniel K. Inouye.
We were a little skeptical earlier this month of a Public Policy Polling survey that showed Schatz leading Hanabusa by 15 percent (the poll was paid for by a group supporting Schatz). But a new, independent poll released by Honolulu Civil Beat this week indicated 44 percent of Hawaii Democratic voters plan to cast ballots for Schatz, while 39 percent say they will vote for challenger Hanabusa. About 16 percent say they were undecided, a chunk of whom appear to be Japanese-American voters, who are often historically reluctant to talk to pollsters.
Schatz told HONOLULU Magazine that he tries not to pay attention to the fluctuations in the polls. "We like our plan, we feel strongly about our message and we have a great group of volunteers across the state. My job is to be vigilant, disciplined and hardworking all the way through," he says.
Peter Boylan, spokesman for the Hanabusa campaign, pointed out that Schatz has been on air throughout the spring with three television advertisements. "This independent poll reminds us that this is still anybody's race and just outside the margin of error. This inspires us to work harder for every vote, and the Congresswoman will continue to listen to and address the concerns and aspirations of Hawaii's working families," he said. "When Governor Neil Abercrombie appointed his Lt. Gov. Brian Schatz, it was the start of a process that ends with the people of Hawaii getting their first chance to vote for their next U.S. Senator."
Meanwhile, Hanabusa's camp on Thursday sent an email to supporters with the subject line, "We will be outspent," emphasizing Schatz's nearly two-to-one money advantage.

Hanabusa Airs First TV Ad
Speaking of TV advertising: the Hanabusa campaign aired its first ad over the Memorial Day weekend. The campaign has some catching up to do, considering the Schatz camp has aired three since March.
Hanabusa's first spot, titled "Obligation," focuses on her Waianae roots and her humble upbringing. An extended version of it is also running on radio. We've included the TV ad here. And while we're at it, here's Sen. Schatz's TV spot from earlier this month, "Two Reasons," which focuses on gun control.

Stanley Chang Earns Endorsement of Congressional Progressive Caucus
A caucus of 67 progressive congressional Democrats have thrown their support behind Councilmember Stanley Chang's bid for the U.S. First Congressional District seat being vacated by Rep. Hanabusa.
Chang is in a crowded field of Democrats, including fellow Councilmember Ikaika Anderson, state Rep. K. Mark Takai, state Sen. Will Espero, state Senate President Donna Mercado Kim, and activist Kathryn Xian. Polls show Kim leading the pack, followed by Takai.
We don't tend to write about every endorsement that candidates get, but we found this particular one interesting, considering the two front-runners in the race were overlooked by their potential congressional Democratic colleagues. Chang recently went on air with his first TV spot highlighting his progressive stances on universal preschool, labeling genetically modified crops and protecting social security.
Chang is a longshot, but as our political pundits pointed out in a previous blog, he came out of nowhere to win his City Council seat and is well-funded.