2017 Top Doctors: David Rovinsky, M.D.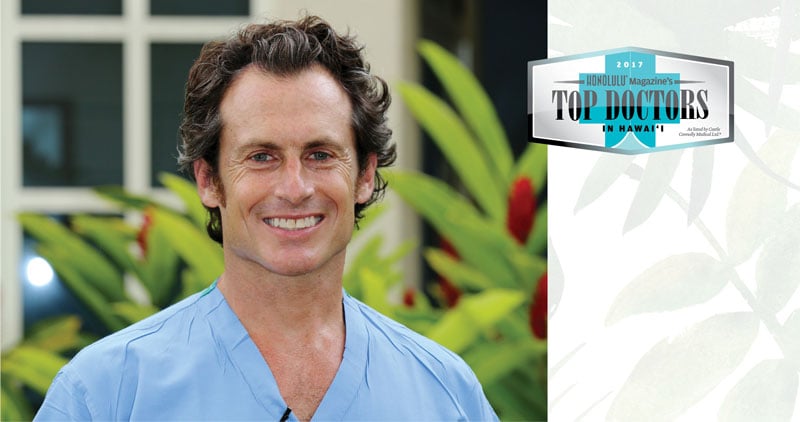 Dr. David Rovinsky is focused on using the very latest technology and techniques to improve surgical accuracy and patient outcomes. Every patient who receives care from Dr. Rovinsky is treated as an individual and provided with holistic, integrated and comprehensive care. At the Bone & Joint Center, he uses the most advanced enabling technologies in all of Hawai'i to help patients and allow them to return to the activities they love.
DIRECT ANTERIOR TOTAL-HIP REPLACEMENT
Dr. Rovinsky has been doing and teaching this muscle-sparing approach to total-hip replacement for more than 10 years.
MUSCLE-SPARING TOTAL-KNEE REPLACEMENT
Use of a muscle-sparing approach to total-knee replacement enables patients to recover faster and with less pain than traditional approaches.
NAVIO ROBOTIC-ASSISTED TOTAL AND PARTIAL-KNEE REPLACEMENT
A robotics-assisted platform that delivers accurate and individualized results for partial- and total-knee replacement. Dr. Rovinsky is the first surgeon in all of Hawai'i to perform a robotics-assisted total-knee replacement using the NAVIO system.
VISIONAIRETM PATIENT-MATCHED TECHNOLOGY
Using a special sequence MRI scan and full-length X-ray of the leg, we build a virtual 3D model of your knee and use proprietary software to plan your surgery and a 3-D printer to make custom surgical instruments to match your individual anatomy and accurately perform the total knee replacement.
JOURNEY IITM ACTIVE KNEE IMPLANTS
JOURNEY II implants were designed using a proprietary human simulation software that virtually recreates the exact internal shapes and angled forces that act on the knee through each phase of motion. This detailed information helps create implants that replicate as closely as possible the complex, natural shape and rotation of the knee.
Dr. Rovinsky considers the JOURNEY II implants to be the "Ferrari" of knee replacements, helping his patients get back in the game faster.
For patients whose arthritis is confined to a single compartment of the knee, Dr. Rovinsky also offers JOURNEY partial knee implants.
VERILASTTM IMPLANT TECHNOLOGY
Because today's active joint patients are having surgery younger and living with their implant longer, reducing implant wear is vital. That's why our center uses VERILAST implant Technology – the combination of two advanced, low-friction materials designed to address implant wear on both surfaces of the implant. VERILAST implants use a highly "cross-linked" plastic and the award-winning OXINIUMTM metal alloy. During manufacture, OXINIUM implants undergo a propriety process that transforms the surface into a hard, ceramicised metal which is more than twice as hard and therefore twice as resistant to the kind of scratching that can cause metal implants to wear out. (1)
We are the only center in Hawai'i to use VERILAST for all of our total knee and hip implants.
CITATION (1): ZARDIACKAS, LYLE D., KRAAY, MATTHEW J., FREESE, HOWARD L, EDITORS. TITANIUM, NIOBIUM, ZIRCONIUM, AND TANTALUM FOR MEDICAL AND SURGICAL APPLICATIONS ASTM SPECIAL TECHNICAL PUBLICATION; 1471. ANN ARBOR, MI: ASTM, DEC. 2005
Individual results of joint replacement vary. Implants are intended to relieve joint pain and improve function, but may not produce the same feel or function as your original joint. There are potential risks with joint replacement surgery such as loosening, wear and infection that may result in the need for additional surgery. Patients should not perform high impact activities unless their surgeon tells them that the bone has healed and these activities are acceptable. Early device failure, breakage or loosening may occur if a surgeon's limitations on activity level are not followed. 
Call the Bone & Joint Center at Kaua'i Medical Clinic today! (808) 245-1523
3-3420 Kuhio Hwy, Lihue, HI 96766, (808) 245-1523
Honored as a top doctor:  2017
DIRECTORY
Table of Contents