Tips for finding the right rental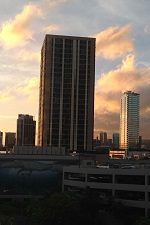 Finding the perfect rental can be tricky business, especially when you're not the only person who wants to rent it.
To help navigate the process, Warren Dote, principal broker for the Property Managers Ltd. and a member of the RICO advisory board that reviews property management complaints, offers some advice for prospective tenants.
Step one, Dote says, is to make sure you're working with either a licensed agent or reputable landlord because scams on websites like Craigslist are becoming more commonplace. Some ads might look legitimate but are really placed by people who aren't authorized to rent the property but have no problem taking your security deposit and first month's rent.
"If you're dealing with a licensed agent, there's less chance you're going to run into a problem," Dote says.
Once you're ready to look, allow yourself at least two weeks to find the right rental. However, Dote recommends being prepared to rent from your first day of hunting.
What does that entail?
• Know what you can afford in rent, plus utilities. If you know you can only pay $1,200 a month, don't waste time looking at a place for $1,400. "That could really screw up your income," Dote says.
• Know what kind of space you need. If you're a single person, you can look at studios. If you have a family, however, make sure to look at places with an adequate number of bedrooms.
• Ask about pets and smoking up front. "If it doesn't allow pets or smoking, don't waste your time. Don't waste the agent's time. Don't try to negotiate it after the fact," Dote advises.
• Check out the neighborhood, especially if you're new to Hawaii. Make sure to see it during the day, as well as at night, to make sure you'd comfortable living there. Dote recommends viewing the interior during the day when there are fewer shadows, then checking out the exterior at night to get a feel for the neighborhood.
• When you go to a showing, make sure to be presentable and show up on time. If you bring children, make sure they're on their best behavior.
• Have all the information you might need for an application: work history, pay stubs or banking statements to verify your income, information about your current residence and contact information for your landlord.
• Be aware of any upfront fees. Most rentals require first month's rent and a security deposit equivalent to one month's rent, but there might be other fees, too, such as application fees, cleaning fees, moving fees or key deposits. Also be aware that all the deposits put together shouldn't add up to more than one month's rent.
• Be honest on your application. The truth is likely to come out on credit and reference checks anyway, so it's better to be upfront about any issues than lose the rental because you've been caught in a lie.
• Don't rent sight unseen. Your friends or family might be able to check out a rental for you, but only you can know if you'd be happy there. This is particularly good advice for people moving from the Mainland, where rooms are often larger than they are in Hawaii.
• Put everything into the rental contract, otherwise what you see is what you get. If you expect a unit to be cleaned or something to be repaired or replaced, get it in writing.
• Pay the least amount of rent possible, Dote advises, because too many people rent beyond what they really need when they could be saving that money for something else, like maybe even a home of their own.