Thursday Steak Night at Vino Tapas and Wine Bar, Restaurant Row, $12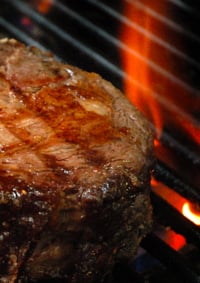 How about this for a post-holiday bargain? Vino Tapas & Wine Bar in Restaurant Row is having Thursday Steak Nights in January: an 8-ounce New York steak for $12.
Why this largesse? The DK Kodama restaurant group (Vino, Hiroshi Eurasion Tapas, DK Steakhouse and Sansei) was searching for a new beef supplier. The group held a series of three blind tastings of dozens of steaks, and the Vintage Natural Steaks out of the Imperial Valley in California were the clear winner every time.
"Other beef I could taste the chemicals," insists the group's sommelier, Chuck Furuya, whose palate is justly celebrated. Vintage Natural Beef is antibiotic- and growth hormone-free, raised by animal welfare standards and fed a diet consisting of whole grains, hay, molasses, vitamins and minerals. The resultant steaks are not as dry as grass-fed beef, but have much the same flavor punch.

"Keith Endo, the chef at Vino, is so jacked up about these steaks, he wanted to put them on special," says Furuya. So Thursday Jan. 7, 13 and 27, you can have an 8-ounce steak plus broccolini in a demi glace sauce for a bargain $12.
Of course, Furuya wouldn't be Furuya if he didn't have a wine recommendation. With Thursday Steak Nights at Vino, he's suggesting Italian reds: Barbaresco, Barolo or Super Tuscans (usually sangiovese blended with cabernet sauvignon and other Bordeaux varietals).
Effuses Furuya, "These wines just get into those juicy, meaty flavors of the steak and integrate the whole thing."
Vino Italian Tapas & Wine Bar, Restaurant Row, 500 Ala Moana Blvd., (808) 552-8466, www.vinohawaii.com