Thursday Open House: Charming Enchanted Lake Home Comes With a Party Boat
Completely renovated home for living the Kailua lifestyle.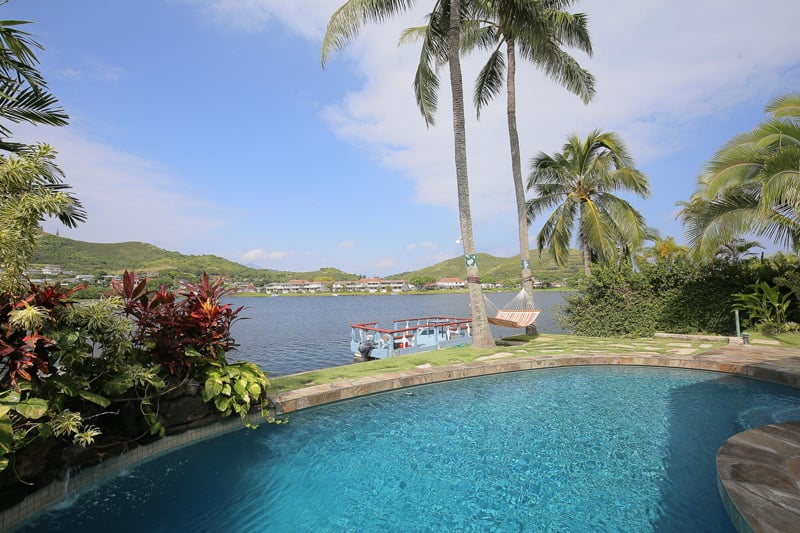 Now that the holidays are over, more real estate agents are getting back into the swing of things with new listings and open houses. This one is open today for broker's open, and then this Sunday, Jan. 11, for public open house.
The Enchanted Lake home was built in 1966, but was recently completely renovated from top to bottom so everything is new: plumbing, electrical (also upgraded to 200 amps), paint, vinyl windows and doors, cork plank floors, even a new roof.
The kitchen features luxury Thermador appliances, including a six-burner dual fuel oven, a pot filler faucet over the stove, built-in steamer oven, and built-in espresso coffee maker and grinder. The counters are unpolished granite for a more rustic look. There is also a custom-made copper sink with built in hot- and cold-filtered water. The cabinets were all custom designed and made by a local cabinetmaker, as well.
The home has four bedrooms and two bathrooms under 1,760 square feet of living area, and the property is 10,119 square feet so there is lots of room. Two bedrooms, including the master, open out to the lake and have new French doors.
Outside, new flagstone decking surrounds the pool, which is warm year-round due to the newly installed heat pump. It was also just converted to salt water, and re-tiled.
Since it's lakefront, you get a boat ramp so you can load your kayak into the lake and paddle to the beach or to Buzz's Steak House. No boat? The property comes with a party boat complete with brand-new Yamaha outboard engine.
The seller had a new Photovoltaic system installed with 24 panels and the propane gas line was piped in from the street so there are no propane tanks on the property and the gas operates the stove, new gas water heater outdoor grill, fire pit, and dryer.
The home's first public open house is this Sunday. Click here for details. Happy house hunting!
Money talk: $1,588,000 fee simple
Contact: Diane Pizarro, Coldwell Banker Pacific Properties, 808-343-0659, DianeP@cbpacific.com
MLS #: 201500173