Three Top Chefs in a benefit for Japan, Halekulani, Apr. 21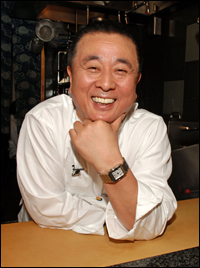 The Halekulani and Nobu Waikiki have joined forces to present "FOR JAPAN – Culinary Artists for the Japan Relief Effort" on Apr. 21, 6:30 to 8:30 p.m.
The event includes three distinguished chefs:
►Nobu Matsuhisa himself, whipping up his characteristic "Japanese-Peruvian" cuisine with dishes like Rock Shrimp Tempura with Creamy Spicy Sauce and Nobu-style Lomi Lomi Salmon with Genmai Salsa.
►Vikram Garg (left), the Halekulani's own culinary star, doing contemporary dishes from his native India, like Seafood Curry and Achari Ghost (a seven-spiced beef with Maui onion jus).
►And Yuji Wakiya (right). Wakiya is a master of Chinese food, in Japan, where his Tokyo restaurant Wakiya is one of Nobu's favorites.
The Nobu group brought Wakiya to the Grammercy Park Hotel in New York, where his high-end, beautifully presented takes on Chinese dishes received both praise and total incomprehension: It was hardly New York-style Chinese take-out. You can taste his "haute Chinese cuisine" for yourself, dishes like Black Pepper-Flavored Orange Chicken and King Crab, Vegetable and Mushroom Harumaki (that's what the Japanese call spring rolls).
►Cocktails will be presented by two of the most accomplished cocktail bars in Honolulu, the bar at Nobu and the Halekulani's Lewers Lounge. We'd show up for cocktails by Nobu's Dave Newman and Lewers' Tim Rita even if the masters weren't cooking.
Nobody at the Halekulani or Nobu will take a penny for the event. Tickets are $95 a person, and 100 percent of the proceeds will go towards the statewide initiative "Aloha for Japan," with Japan-America Society of Hawaii as the designated recipient, channeling the money to the Japanese Red Cross Society.
For reservations, call 931-4050.