Three Places to Watch Outdoor Movies on O'ahu
Grab your beach blankets and chairs, stock up on snacks and enjoy a film alfresco at Waimea Valley, Sun Farm Hawai'i and Wet'n'Wild Hawai'i.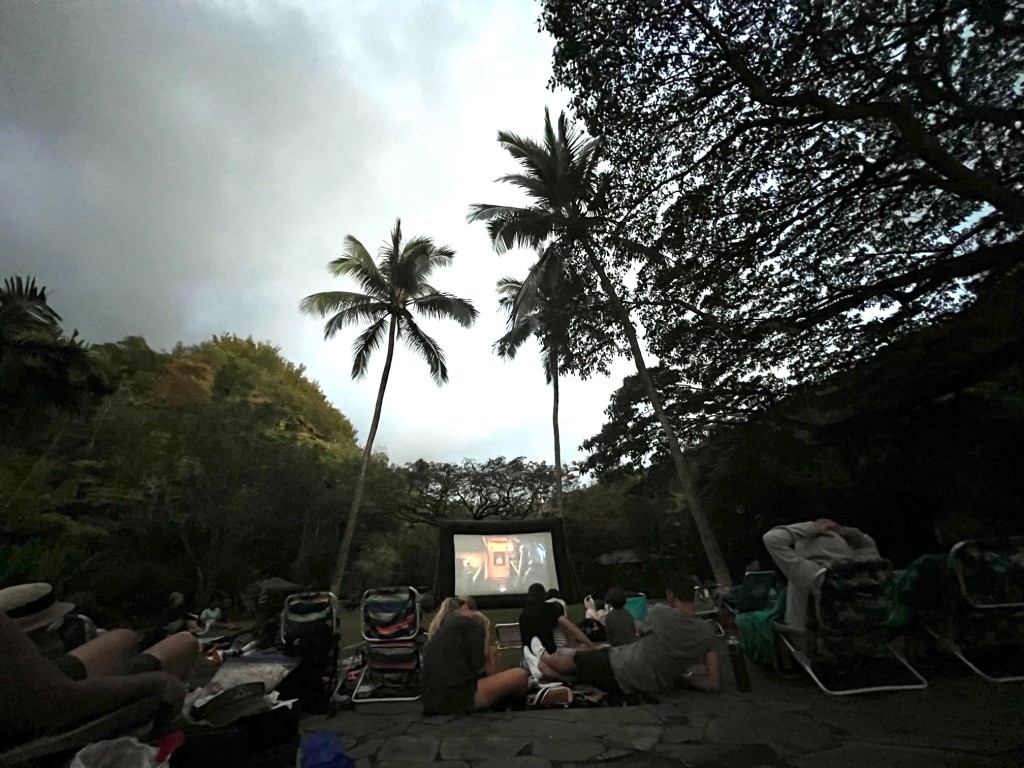 Though we're lucky to be able to enjoy the outdoors year-round, there's something especially satisfying about summertime. The sun goes down later, the kids stay up later (oops), weekend barbecues linger well into the night. We're all a little more carefree and looking for special things to do, and outdoor movies—getting cozy beneath the stars with snacks galore, of course—sound pretty perfect. So load up your beach blankets and chairs and check out three places on O'ahu to catch an outdoor movie this summer and beyond.
Screen on the Green at Waimea Valley
Every Thursday in July, FarmLovers co-sponsors a free family-friendly movie on the main lawn at Waimea Valley. If you have the luxury of making a day of it, cruise the beach at Waimea Bay , peruse the valley's Hale'iwa Farmers Market from 2-6 p.m., then grab some good eats to enjoy during the movie. If you can't make it this month, you're in luck: The Thursday movies extend into August to showcase Waterman, the acclaimed documentary film about the legendary life of Duke Kahanamoku.
July 28, 7 p.m.: Beetlejuice
Aug. 4, 7 p.m.: Waterman
Free, Waimea Valley Road, Hale'iwa, (808) 638-7766, www.waimeavalley.net, @waimeavalleyoahu
---
SEE ALSO: ☀️ Our Family Guide: Waimea Valley on O'ahu
---
Screenings Under the Stars at Sun Farm Hawai'i
This urban family farm in Hawai'i Kai hosts a variety of educational experiences—farm tours, field trips, fruit and flower picking are just a few—and just plain enjoyable ones, such as magical movie nights. The inaugural event happened back in June and movie nights continue every second Friday of each month. Delight in the farm-fresh concession snacks like wood-fired pizza, chocolate banana pops, popcorn, papaya sorbet, fresh cold coconut water, lemongrass tea and more (Sun Farm Hawai'i says it will be experimenting with tacos in the future)! All proceeds benefit the small community farm.
Aug. 12, 7 p.m.: Waterman
Sept. 9, 7 p.m.: TBA
Oct. 14, 7 p.m.: TBA
Nov. 11, 7 p.m.: TBA
Dec. 9, 7 p.m.: TBA
$10, 509 Pakala Street, Honolulu, (808) 348-5886, sunfarmhawaii.com, @sunfarmhawaii
Dive 'n' Movies at Wet'n'Wild Hawai'i
If you think watching a movie alfresco sounds nice, try watching a movie alfresco while floating on an inner tube in a wave pool! Dive 'n' Movies take place nearly every Saturday through the end of the year (weather permitting) at noon and at dusk, so the whole 'ohana can enjoy a family-friendly film on a new 20-foot high-definition LED TV wall screen in front of the Hawaiian Waters Wave Pool. Along with the movies, you can expect extended hours (more time for slides!), as well as food and drink specials, and prize giveaways.
July 30, noon & 5 p.m.: The Bad Guys
Aug. 6, noon & 5 p.m.: The Mitchells vs. The Machines
Aug. 13, noon & 5 p.m.: Shark Tale
Aug. 20, noon & 5 p.m.: Sonic the Hedgehog 2
Aug. 27, noon & 5 p.m.: Pirates of the Caribbean: The Curse of the Black Pearl
Sept. 3, noon & 5 p.m.: Godzilla vs. Kong
Oct. 1, noon & 5 p.m.: Addams Family 2
Oct. 8, noon & 5 p.m.: Hotel Transylvania 3: Summer Vacation
Oct. 22, noon & 5 p.m.: Ghostbusters: Afterlife
Nov. 11, noon & 5 p.m.: Snake Eyes
Dec. 17, noon & 5 p.m.: (TBA)
Free with 2022 season pass or paid admission ticket, 400 Farrington Highway, Kapolei, (808) 674-9283, wetnwildhawaii.com, @wetnwildhawaii