Three Hawaii families share discipline strategies that work
Discipline strategies vary from parent to parent. Most are adapted from reading books, talking to professionals, chatting with friends or, more commonly, lessons learned from parents and grandparents. We profiled three ethnically diverse families and uncovered various tried-and-true methods that yield positive results.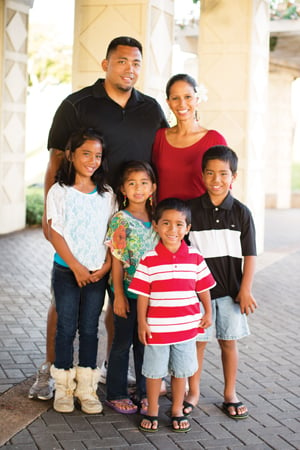 Lyman Family
Ethnicity:
Hawaiian, Caucasian, Puerto Rican, Filipino and Spanish
Discipline Strategies:
• Use charts and checklists to track family members' roles
• Reward good actions with "behavior bucks"
Pomaikai Lyman, a Hawaiian-music artist and hula dancer, brings her four children to evening performances when her husband of 10 years, Shane, works late nights and a babysitter isn't available. While onstage, Lyman expects her children – Malie, 9, Iosepa, 7, Ziona, 5, and Enosa, 4 – to eat dinner and quietly wait until it's time to leave.
"I need them to have good manners, so that I can feel comfortable leaving them at a table if necessary," says Lyman, whose performances are inspired by her late grandmother, "Aunty Genoa" Keawe, a Hawaiian singer and entertainer. "I never liked the idea of bringing an iPad or DVD player to keep them occupied while adults are sitting at dinner. We practice table manners at home, so that when we are in public, they know how to act."
During family meals at home, no one is allowed to speak until his or her plate is half-empty. "We talk and have family time during dinner," she laughs. "The kids love to share about their day and ask about ours. They may not always understand our issues, but they listen."
It's a welcome change from their busy schedule of after-school activities, church leadership roles and evening performances. To maintain order, the Lymans rely on behavioral charts and checklists. On the bedroom door is a weekly calendar with each family member's daily chores.
Each child has a chart of "Things I Need to Work On," and for every good deed or chore completed, the child receives "Behavior Bucks" (play money), redeemed for rewards, such as ice cream, surfing or a date night with Mom or Dad.
If a child misbehaves, he or she gives input on the consequences, "so that it doesn't turn into an 'I hate you for doing that' situation, and the children feel they have accountability," Lyman says. A daughter recently lied about finishing homework. She wrote an apology letter and wasn't allowed to join a favorite aunt at a hula performance.
Although grandmas and aunts are major influences in the children's lives, discipline is left up to the parents. "I do get frustrated when I want to scold them for something that my daughter feels is OK," laughs Lyman's mother, Marlene Keawe. "But I try not to discipline."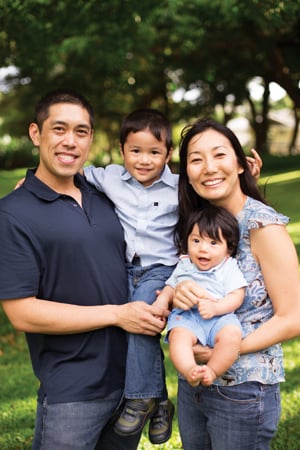 The Vivar Family

Ethnicity:

Filipino, Spanish, Chinese and Japanese

 

Discipline Strategies:

• Don't spank or use physical punishment

• Allow freedom within firm boundaries
Janlyn and Jason loosened up after learning that strictness didn't allow Dylan to make choices and learn consequences. They gave him more freedom, but set firm guidelines.
As a toddler, Dylan Vivar obeyed his parents and sought their approval on everything. "He never threw tantrums because I was the boss," recalls his mother, Janlyn, who moved to Hawai'i from Seattle last year with Jason, her husband of four years, and Dylan, their firstborn. "Dylan would listen and was a really obedient kid—it seemed suspicious to me," she laughs.
Janlyn and Jason loosened up after learning that strictness didn't allow Dylan to make choices and learn consequences. They gave him more freedom, but set firm guidelines. Dylan today is an adventurous, playful, 3-year-old, surrounded by cousins, grandparents, uncles and aunts who help to raise him. Baby No. 2, Rylan, was born in Hawaii in December 2012.
The family closeness is a drastic shift compared to the 16 years in Seattle, where Janlyn was a CPA and Jason was an IT analyst. Isolated from blood ties, the new parents sought advice from parenting experts, the Internet and friends. "We didn't know any better and tried to follow the textbooks to a T," Janlyn says. Among her resources: Babycenter.com, Parenting magazine and author Dr. William Sears.
"Parenting experts are great, but there's no cookie-cutter child," Janlyn says. Since returning to Hawaii, Janlyn relies less on books and parenting experts and welcomes input from her parents and sister.
She and her husband experiment with discipline methods similar to her own parents' 30 years ago. When Janlyn was a kid, her mother used "redirection," a form of distraction to stop negative behavior in its tracks.
Usually, redirection works for Dylan. "Trying to reason with a 3-year-old will just make everyone more aggravated," Jason says, adding that raising a preschooler and an infant isn't easy. There are evenings when the family's patience is tested.
Their secret to a peaceful home and happy, disciplined children: Consistency and constant communication between both parents. Dylan knows his mom and dad follow the same rules, with similar consequences.
The one thing the Vivars will not do in their home is spank. Less-severe forms of punishment (such as time-outs and lectures) are as effective. "My parents were old-school and used spanking as a form of discipline," Jason recalls.
Janlyn adds, "Dylan copies everything we do, so I'm sure he'd copy us, if we chose to spank!"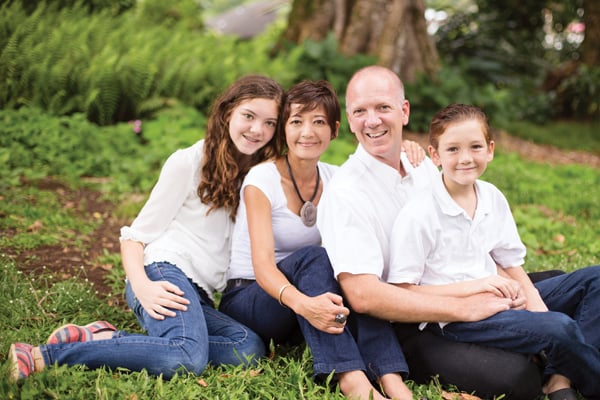 The Kuening Family
Ethnicity:
Japanese, Dutch, German and Irish
Discipline Strategies:
• Say "yes" more often than "no"
• Postpone punishment until anger subsides
Manami Keuning, mother of Anika, 12, and Kai, 9, sometimes loses her cool and snaps at her children for breaking rules. But she always is quick to apologize. "Saying sorry and receiving forgiveness gives me a peaceful feeling," Manami says.
David, her husband of 17 years, has no problem telling the kids, "Pick up your toys now or something awful is going to happen!" Being vague buys him time to think of an appropriate consequence.
He also has been known to say, "You just lost your TV privileges," followed by, "I'll think about how long and will let you know." The technique allows David to clear his head after a bout of anger. Taking away iPhone privileges or shutting down the wireless Internet at home are among the harshest punishments he has delivered.
Manami and David hail from diverse backgrounds. She, a flight attendant, was born and raised in Japan by an authoritative mother and mellow father. David, chairman of a CEO peer group, was born and raised in Hawai'i and spent equal time between his parents, who divorced when he was 3. "They always made it clear to me how much they loved me," David recalls.
Unconditional love is the message the Keunings want to convey to their children via disciplinary measures.
They are fans of Kevin Leman's book, Parenting with Love and Logic, and The 5 Love Languages, by Gary Chapman.
The couple recently attended a parenting seminar by John Rosemond, author of The Well-Behaved Child: Discipline That Really Works. At the seminar, Manami learned, "When you want your child to do something, say it once and walk away. If it's not done when you return, give consequences."
A useful, but loving tactic David learned from his late grandmother was to say "yes" often and to stand firm when "no" was the answer. "The word 'no' doesn't mean maybe," he says. "When I say 'no,' I don't monkey around." So far, the method works like a charm for Anika and Kai.
Manami and David agree that disciplining is easier when the children are young, and the consequences are less harsh. "I'd rather teach the consequences of responsibility with a $10 G.I. Joe than a $300 iPhone, or with a $12,000 Nissan Sentra!" David laughs.
Successful parenting requires old-fashioned techniques, not child psychology. So says John Rosemond, a nationally renowned speaker and author of more than a dozen books, including The Well-Behaved Child: Discipline That Really Works, Teen-Proofing and Making the Terrible Twos Terrific! He recently spoke with HONOLULU Family about changes in parenting. Find out what Rosemond had to share.