Three Great Honolulu Salads to Cleanse Your Palate for the New Year
Get a fresh start to the year with these unexpected local salads.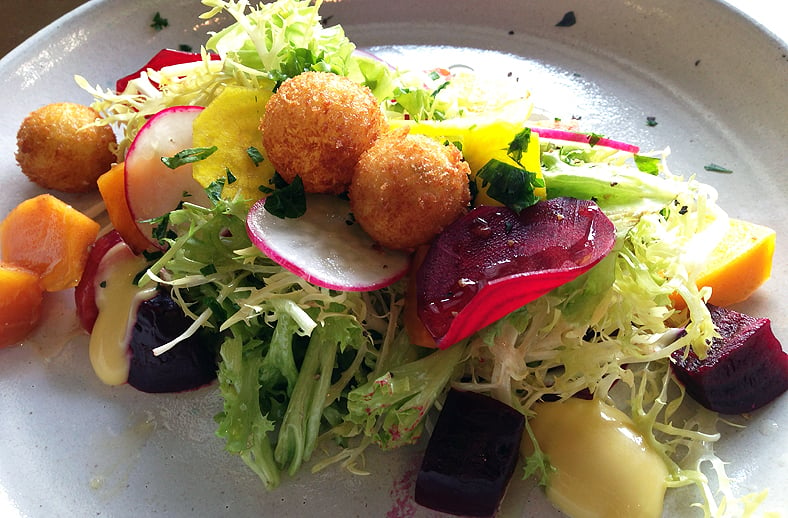 God, I love a good salad, especially when I've been sedentary for weeks and need a palate-cleanser, something delicious and fresh that feels nourishing on a mineral level. The best salads contain a hint of surprise, a blend of elements that retain their individuality but come together in a memorable way—just like the best years.
Lomi Kale Caesar at the Spalding House Café $9
Kale is ordinarily too tough to serve raw, but chef Susan Lai Hipp gives hers a massage with olive oil and some time to relax, which transforms the leaves into tender salad material. Then Lai Hipp tosses them in a dressing that's "a lot more lemony than the traditional Caesar," she says. The citrusy tang lifts up kale's bitter bass note and makes it harmonize with the deep umami of Caesar's traditional anchovy-Parmesan combo. A scattered handful of bubu arare adds crunch, and you can have it with chicken for $4 more, though that always feels like too much to me. Add in the café's high-altitude perspective of Honolulu, and it's the perfect lunch for taking the long view. Spalding House Café, 2411 Makiki Heights Drive, 237-5225.
Moroccan Salad at Kan Zaman
$8.95
Orange blossom water is the signature scent at Moroccan/Lebanese eatery Kan Zaman (the name means "once upon a time" or "like the old days"). To finish a meal, guests are offered a traditional sprinkling of the heady scent—but it also perfumes their Moroccan Salad, a pretty plate of orange, cucumber and greens tossed with orange blossom and honey vinaigrette and garnished with radish. First, you feast with your eyes—and then the hint of honeyed orange blossom makes every mouthful like a trip to a desert oasis. Kan Zaman, 1028 Nu'uanu Ave., 554-3847.
Beet Salad at Livestock Tavern (downtown) $10
Livestock Tavern's menu changes with the seasons—and not only the four seasons, but with often-brief growing seasons. This one started out as "Persimmon Salad," but with persimmon season coming to an end, the flavors are moving toward a more classic pairing: sweet golden and red beets, little spheres of goat cheese with a crunchy crust, and radish coins sliced thin on a bed of frisee and tender lettuces. LT kicks it up a notch with two dressings: a foundational slick of scarlet beet puree and artistically placed dabs of pale orange liliko'i mousse. This one's part of the winter menu, so you'll have to act fast to try it before it goes bye-bye in March. Livestock Tavern, 49 N. Hotel St., 537-2577.