Thousands line up for opening of Hawaii's first Microsoft store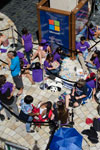 Web exclusive
June 13, 2013

Photos: Kelli bullock

Thousands camped overnight at Ala Moana Center for this morning's opening of Hawaii's first Microsoft store. The line snaked from Bath & Body Works around the second-floor entrance of Shirokiya to the parking garage near Macy's.
Microsoft employees clapped to the tune of "Good Feeling" as customers entered the store (Microsoft's 39th) to browse, try out the store's new products and grab free tickets to the Macklemore and Ryan Lewis and Neon Trees evening concert.
Jonathan Adashek, Microsoft's general manager for communications strategy, says the company has been planning a retail store in Hawaii for three years.
"We've been working hard to get the right location for it and Ala Moana is the perfect spot," he says. "… We've got a lot of people in Hawaii who use our products, and it's an important market for our company overall."

Cyan Mezin says he'll enjoy his new Surface Tablet.
Nine-year-old Cyan Mezin spent the night in front of the new store with his mother Demery Mezin and sister Kayla Carroll. They arrived at 8 p.m. Wednesday, just two hours before the official 10 p.m. waiting time.
They were among the first 10 people in line when the store opened today at 11 a.m., which meant they were among the first 200 people to score concert tickets and a meet and greet with Neon Trees after the show.
"I'm mostly here to get tickets for my mom, because her birthday is coming up and I thought it'd be pretty cool to see Neon Trees, because that's her favorite band," Cyan Mezin says.
Demery Mezin says she was excited to attend tonight's concert at Kakaako Waterfront Park.
"It's awesome," she says. "It's overwhelming and exciting."
Cyan Mezin was most excited about his new toy: a Surface Tablet in a white Microsoft tote.
"I'm going to Skype my sister in New York, so I can see her all the time," he says. "And I'm going to read books on it."
Check out our photos below.

Photos: Kelli bullock