Editor's Page: Going, Going Gone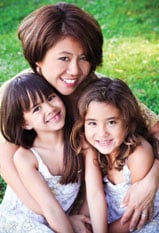 Helen and her girls
It seems that summer is slipping away too fast. My daughters are enjoying the challenges of two great summer-school courses—Techno Scribes, a writing class that aims to ignite creativity through the use of technology, and Reading Workshop, a focused reading-strategies class. We agreed to balance academics with some "afternoon fun." The combination seems to be paying off. Everyone is happy.
There's still a lot of fun stuff left to do. I'm hopeful we will get through most of our wish lists before summer ends and it's back to business.
Heading back to school is not always an easy transition for kids. Check out "Back-to-School Readiness," on page 16 in the magazine, for what to look for and tips on how you can help.
There always seems to be a piece of advice or nugget of information "I wish I knew." One such nugget is knowing that I could have saved a person's life the day I gave birth to my twin daughters. If you are pregnant, you still can. See "Giving the Gift of Life," on page 32 in the magazine, for more information.
I'm happy to know it's not too late to make a difference and improve the world we live in. Going solar is not only an easy decision, but an affordable one. Find out how you can reduce your carbon footprint and leave a cleaner, healthier world for your children in "Investing in a Better Hawaii for Your Keiki," on page 11 in the magazine.
Enjoy your summer.