Editor's Page: Your Corner of Paradise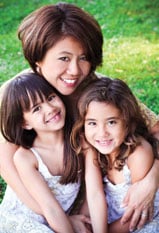 Helen and her girls
My family enjoys being close to the beach and near hiking trails. We live on a cul de sac where our daughters can play safely outside, we have access to great dining options and shopping is only 10 minutes away. The daily commute to work and school is the sacrifice we make so we can enjoy our little corner of paradise. Some people may enjoy being in the heart of the city, while others appreciate country living. Whatever your preference, one thing is for certain: Most parents aspire to owning a home where their children can grow up frolicking in a safe, fun neighborhood.
When I toured the model homes at Kealakai in Kapolei, I was impressed with the warm sense of community this new development has achieved. With the cost of living so high, it's nice to know there are new homes being built that appeal to cost-conscious Hawaii families. For more information on Kealakai in Kapolei, check out "Home, Sweet Home," on page 11 in the magazine.
The advantage of a long commute is that my daughters, one of whom is an "auditory learner," can enjoy listening to audiobooks. I discovered this learning trait by accident after borrowing our first audiobook from the library. I began to understand why my daughter always seems to receive such praise from teachers for being a good listener and contributor to class discussions. If you are not sure what kind of learner your child is, read "Understanding Your Child's Learning Style," on page 16 in the magazine, so you can help him or her succeed in school.
Welcome back to school, families.