This Week's Open House Pick: Retro Cool in Tantalus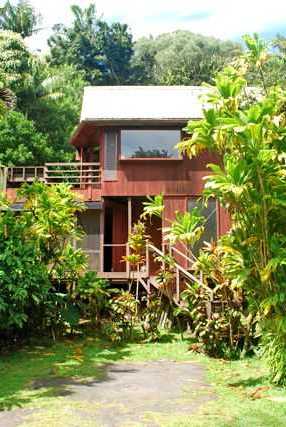 I have an unabashed love for all things vintage, and this treehouse-like cottage perched atop Tantalus ranks high on my retro-cool list. Custom built in 1970, the multi-level home features beautiful woodwork, much of it done in cedar and redwood, including a soaring A-frame ceiling in the living room and detail work throughout the funky loft area. "The home's selling points are its craftsmanship, the amount of hardwoods used, and it's a very durable house with a steel roof," says Coldwell Banker Pacific Properties listing agent Fred Lunt. "The neighborhood of Tantalus is quite unique, too. Being in a forest reserve area, it's quiet and peaceful."
The owners, Leila and Will Kyselka, designed the home from the ground up, living in a rental across the street while it was built. A geologist, retired University of Hawaii associate professor and former lecturer at the Bishop Museum Planetarium, Kyselka, who is known for his work with wayfinder Nainoa Thompson, was aboard the sailing vessel that escorted the Hokulea on its 1980 voyage to Tahiti, and was on the Hokulea for part of the Voyage of Rediscovery in 1986-1987. The Kyselkas, who are both in their 90s, have decided to sell their home as they are moving into a retirement community.
The home has fantastic outdoor spaces, including a deck on the second floor and a screened-in lanai on the lower floor, which make you feel like you're up in the trees and let you look out over much of the 15,000-sq.-ft. lot. The lower floor has an in-law suite, which is always a bonus for local families, and a separate office. All told, there are four bedrooms and two-and-a-half bathrooms and 2,214 square feet of living space. "The house needs some modernization in some of fixtures and cabinets," says Lunt. "But the house is pretty cool." The property is listed $995,000.
Open house: Sun., March 13, 2 to 5 p.m.
Contact: Fred Lunt, Coldwell Banker Pacific Properties. 593-6447, lunt@cbpacific.com.