THIS SUNDAY: Alan Wong joins Biting Commentary on TV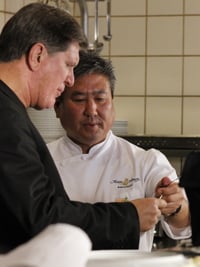 This Sunday the second episode of Honolulu Magazine's Biting Commentary with John Heckathorn, presented by Hawaiian Airlines, airs on KGMB, 2:30 p.m.
The episode features chef Alan Wong and some recipes from his book, The Blue Tomato. In fact, we had so much great footage cooking with Wong that we split the episode into two parts.
I've already written about my misadventures filming in Wong's kitchen. Cooking with Alan is a challenge; it makes even experienced chefs quake.
But in this episode, you can see the two of us whip up Big Island goat cheese mousse with Ho Farms tomato salad that was good enough to sit down and eat.
Plus we drive out to Kahuku to see the tomatoes growing on the vine, taking you right from farm to table.
Miss the last show? (How could you?) We've posted the entire first "Kau Kau" episode with author Arnold Hiura and KTA's irrepressible Derek Kurisu. You'll find it right below.
Want to fly off free to the Philippines, Samoa, Tahiti, Australia, South Korea, Thailand or Japan? In conjunction with the show, the generous folks at Hawaiian Airlines are giving away two round-trip flights to any of their international destinations. Enter by clicking here.