This Space Reserved: $30K for a Parking Space in Hawaii Kai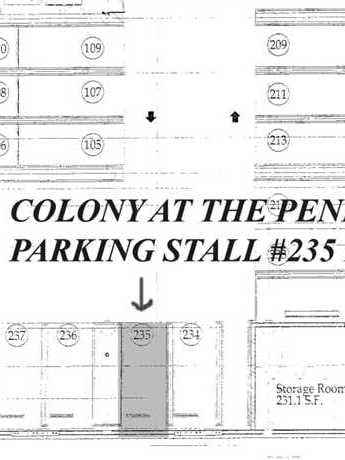 Sure, we all know that parking in this city is a hot commodity, but a nearly $30,000 commodity? Apparently. Standalone stall No. 235 at Hawaii Kai's The Colony at the Peninsula is currently listed for $29,500 by listing agent/owner Philip McCaffray, who is looking to offload the extra space. While the stall is only available to other Colony owners, McCaffray says it's not as challenging to market as one might think. "In this particular garage, the majority of the parking stalls are tandem, meaning they're front to back," he says. "So you can imagine a husband and wife trying to jockey cars all the time. This is a freestanding stall, so if you have more than one person living in the unit and one or two cars, it's a lot more convenient."
Bottom line, says McCaffray, is parking adds to the marketability and convenience of a unit, making it all the more tempting to prospective buyers when you go to sell. Four years ago, the developer set the price of one-car stalls in the Colony at $25,000, so a $4,500 increase doesn't seem all that unrealistic.
Money talk: The No. 235 stall at the Colony at the Peninsula is listed for $29,500 fee simple.
Contact: Philip McCaffray, Coldwell Banker Pacific Properties. 282-4264, philipm@cbpacific.com. www.cbpacific.com.