This Huge Kailua Estate Can be Yours for Just $28 Million
President Barack Obama, won't you be my neighbor?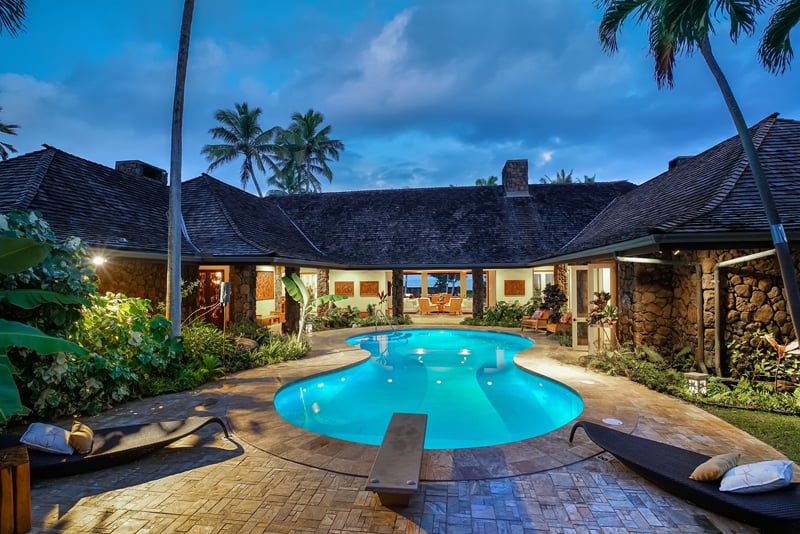 Photos: Courtesy of CBI Hawai'i
With President Barack Obama back in town, the world again turns its attention to Kailua, where the first family spends its annual holiday vacation. Or is the world chattering about 51 Kaikea Place, a 2.5-acre estate available for sale, just five minutes from the presidential retreat?
A little history: The owners bought the main estate—which is 89,923 square feet—for $22 million in 2008, then acquired the two lots in front of the main gate—each about 10,000 square feet—for $4 million. From there, they invested more than $7 million for a major renovation project to the main house and the guest house, and constructed a caretaker's house (on one of the front lots), designed by renowned Hawai'i architect Fritz Johnson. This current sale includes all three homes, which comprise 7,851 square feet of living area, 4,466 square feet of open lānai area, 1,121 square feet of storage area and 870 square feet of garage/carport areas. All fixtures, furniture and equipment are included in the sale, except for the paintings.
The same property (all three lots) was listed earlier this year by another brokerage for $38 million. So, at the current price of $28 million, it seems like quite the bargain.
The neighboring beachfront parcel, 22 Laiki Place, is also available for sale by the same owners as 51 Kaikea Place for just $5 million. This means that, if you're interested in purchasing both properties, you could have approximately 280 linear feet of beach frontage, with 200 linear feet offered by 51 Kaikea and another 80 linear feet or so from 22 Laiki Place property.
For more information about 51 Kaikea Place, visit 51kaikea.com. Click here for video.
Money talk: $28 million
Contact: Scott Eden, CBI Hawai'i, 722-1168, seden@cbi-hawaii.com
Got a suggestion for our real estate blog? Know of a fabulous open house? Fascinating story? We want to know. Shoot us an email at realestate@honolulumagazine.com