The ultimate local-style eatery? Hawaiian Style Cafe, Waimea, Big Island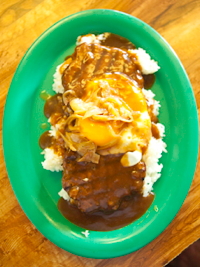 Mention Hawaiian Style Café on the Big Island and you always get a reaction. The little, homemade-looking restaurant in a Waimea strip mall is legendary for its portion size. The reactions range from "Good for you, you know how to eat local style" to "Uh oh, you're not going to be hungry again for a week."
"That's what we do," says owner Guy Kaoo. "Good portions, good price."
For $7.95, you get Hawaiian Style's loco moco—two beef patties, a plastic platter of white rice, grilled onions and, of course, a slathering of gravy built on beef stock and gravy mix. And, of course, a fried egg.
Biting Commentary—who's never been accused of being a light eater—couldn't finish his. If, however, you are of hardier stock, then there's always the Big Mok Loco Moco, which includes Spam and Portuguese sausage.
But here's a tip. The café uses pre-made patties for its loco mocos and hamburgers on a bun. If you want local beef, order the stew, or better yet, the teri burger—plumper, tenderer, better eating than the commercial stuff.
You can get a teri burger on a mixed plate with Hawaiian Style's spicy and moist chicken cutlet. The $9.95 mixed plate comes with a double scoop of white rice, softball-sized portion of mac salad with tuna, and plenty gravy. It makes the loco moco look like the dieter's special. You could get brown rice and green salad, but that wouldn't seem to be in the spirit of place.
There's a lot of cooking going on in Hawaiian Style's small kitchen. Pictured here, the owner's brother, Sam Kaoo, and Kalani Guerrero cheerfully work the hot line. "My brother, I came to help out and he turned me into a slave," laughs Sam. "But he's really improved the food."
The kitchen turns out housemade Portuguese sausage, chunky like the traditional Portuguese linguisa. And kalua pork hash. "We can't make enough of that hash," says Guy.
One reason we couldn't finish our plastic platters is that we ordered on the side a short stack of pancakes topped with fresh berries and whipped cream. The stack may have been short, but it was certainly wide.
We walked out happily, but slowly. You just don't know local grindz until you've made the trip up the green rolling hills of Waimea to Hawaiian Style Café.
Open daily 7 a.m.-1 p.m., Sundays until noon, 65-1290 Kawaihae Rd., Waimea, (808) 885-4295