The Ultimate Guide to Two Hawai'i Alcohol Producers: Kō Hana Distillers and Hana Koa Brewing Co.
Let's play a drinking game.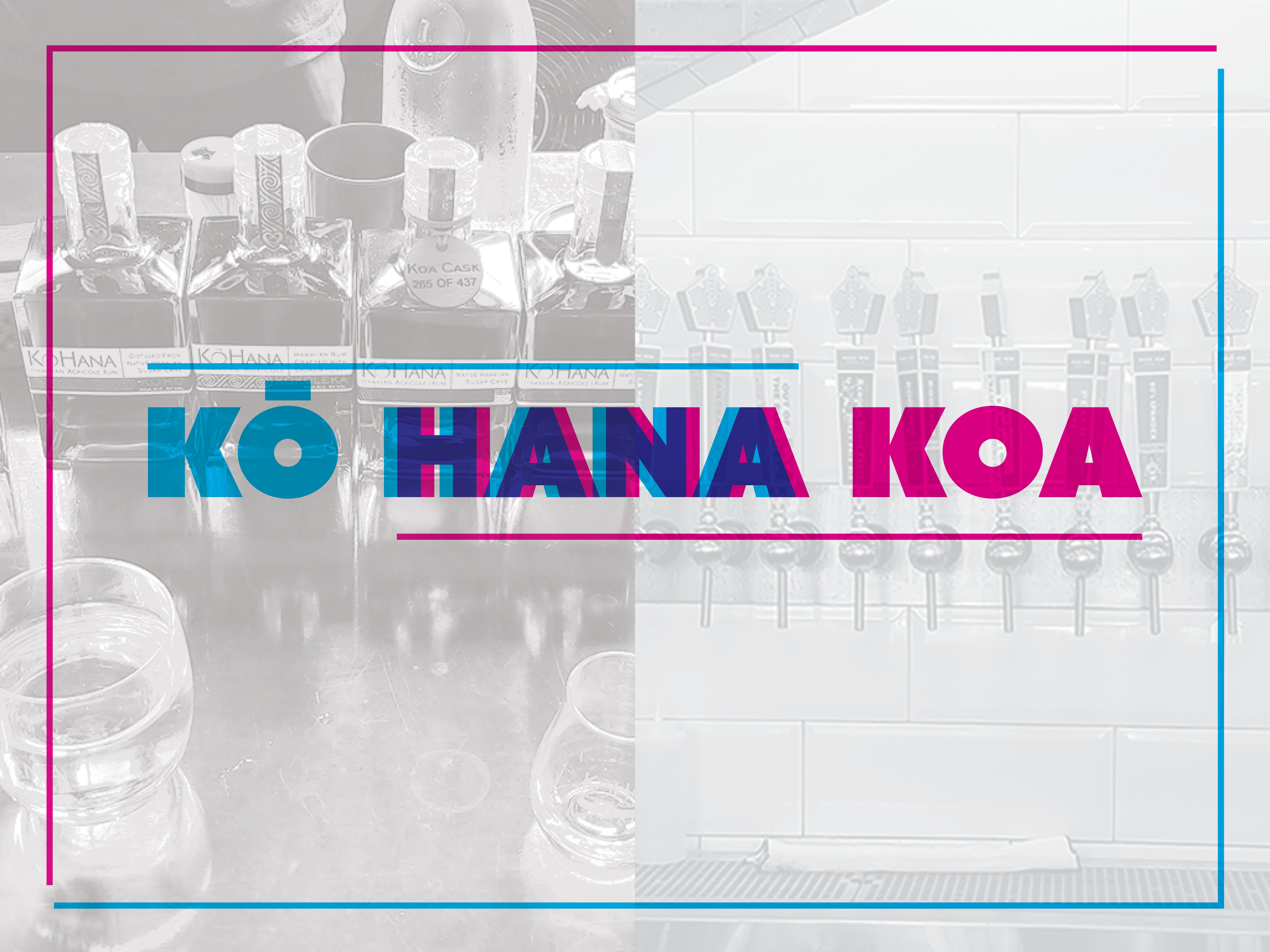 It was a Dark 'n' Stormy night. Or maybe an Old-Fashioned one. All we know is Kō Hana was there … or was it Hana Koa? We swear we're not seeing double: The two local alcohol producers walked into a bar, and we haven't been able to keep them straight since.
---
SEE ALSO: First Look: Hana Koa Brewing Co.: Kaka'ako's Newest Brewery and Largest Taproom
---
---

The work of the sugar cane.

NAME MEANING

---

Craft warrior.

---

Established in 2011 as a rum distillery, two years earlier as a farm. There are currently 34 varieties of sugar cane growing on 50 acres in Kunia.

BACKGROUND

---

Craft brewery opened in November 2019 in a former Coca-Cola warehouse
in Kaka'ako.

---

Unlike most rum made from molasses, Kō Hana rum uses fresh-pressed cane juice, made in small batches (agricole style). Each of the sugar cane varieties at Kō Hana produces a different rum.

PRODUCTS

---

The brewery features about 20 beers at a time on 45 rotating taps, including hazy IPAs, pale ales, lagers, sours and stouts. There's a full food menu that has featured marlin toast, beer-braised brisket, pork belly sliders and more.

---

Roughly 5,000 cases per year.

Output

---

The 15-barrel system produces about 60 kegs per batch.

---

Kea, the unadulterated white rum, works best as a base for cocktails. Koho, aged in oak barrels, develops a smoother, sweeter flavor, while cask-strength Koa has a rich taste and mouthfeel and is best served neat.

Drinking Experience

---

Most of the beers have between 4.2% and 5.5% alcohol. The lighter ones are clean and bright with fruity notes. We love La Hacienda, a malty dark lager, and the Dortmunder Mifflin Tropical German Lager.

---

Kokoleka rum: mixed with local cacao from Mānoa Chocolate and raw honey from Mānoa Honey, $55. Kō Hana Provisions coffee: local coffee beans aged in barrels that have been used to age rum, $20.

Collabs

---

Hana Koa's goal is to give back to the community in a meaningful way, through events and partnerships. Most recently, Hana Koa released its version of All Together, a worldwide collab IPA that supports hospitality workers.

---

Kō Hana Koa is aged in, you guessed it, a koa barrel, and is exclusively available in the tasting room for $175 a bottle. The Hawaiian Legacy Reforestation Initiative plants 50 koa trees for each batch of Kō Hana Koa, which takes two years to mature.

Showpiece

---

Roof Top Pale Ale is Hana Koa's most popular beer, named after head brewer Josh Kopp and director of operations Chrissie Kopp's summertime tradition. They were married on a rooftop last summer and held their reception at the brewery.

---

Drink fresh cane juice, explore the garden, taste four kinds of rum (and, if you're lucky, rum cake) and take home a souvenir glass. $25 ($15 for kama'āina).

Tours

---

Check out the brewery operations, learn about vertical fermentation, taste the grains and smell the hops used. $15, includes a four-beer flight of your choice.

---

92-1770 Kunia Road, Kunia Camp, kohanarum.com, @kohanarum

The Info

---

962 Kawaiaha'o St., hanakoabrewing.com, @hanakoabrewing
---
SEE ALSO: Drink Local Guide: Where to Get Locally Crafted Spirits in Hawai'i
---