The Price Tag of These New Kaka'ako Condos Is Generating Plenty of Interest From First-Time Buyers
The lottery for Ke Kilohana will be held in April.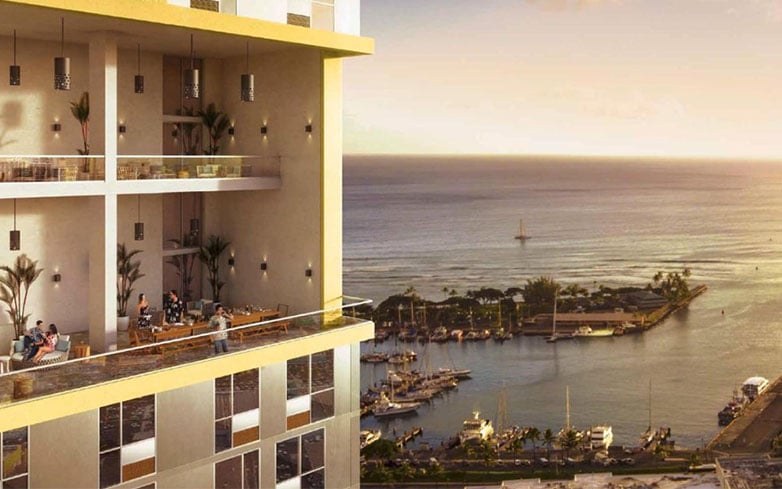 Photos: Courtesy of Ke Kilohana
Prices and details of the lottery sales process of Howard Hughes Corp.'s highly anticipated condo project in Ward Village for first-time buyers were released Friday.
And the prices will surely generate a lot of interest.
The "reserve" one-bedrooms units range from $323,475 to $442,246. The two-bedroom units are being offered from $473,789 to $538,612. The three-bedroom units go for $521,774 to $560,774.
If you've seen the eye-popping price tags at Howard Hughes' other new Kaka'ako towers or even much older condos in town, these seem like a steal. But there are strict restrictions and guidelines on renting and selling these units as they are designated for working-class, first-time buyers—not investors looking to flip them for a profit or rent them out.
Of the 424 total units in Ke Kilohana, 375 are designated as "reserve" units and will be sold through a public lottery. Reserve units are priced well below market value and carry restrictions on selling and renting. They are only offered to qualified first-time homebuyers who will be owner-occupants, are Hawai'i residents and fall within certain income and asset requirements.
To qualify for a reserve unit, a buyer cannot earn more than $85,150 for a single-person household, $97,300 for a two-person household and up to $121,650 for a four-person household.
The reserve housing program was designed by the Hawai'i Community Development Authority to encourage homeownership and help working-class people who can't afford market prices yet earn too much to qualify for government housing programs.
Buyers must pick up application packets starting Saturday, March 26, through April 3 at the Ke Kilohana Sales Gallery in the IBM Building. To be eligible to be entered in the lottery, buyers must get qualified through project lenders Bank of Hawai'i or Honolulu HomeLoans and return the completed applications between April 8 and April 13.
The April 15 lottery will select the order of the buyers, and unit selection will commence soon thereafter.
Ke Kilohana is Howard Hughes's first project in its 60-acre Ward Village area that is targeting first-time buyers. It is planned just off Ward Avenue at 988 Halekauwila St., on the former site of Dixie Grill restaurant across the street from Sports Authority.
The building will be pet friendly and have amenities such as a theater, co-workspaces with meeting rooms, indoor/outdoor lounges and a fitness center with kids playroom and karaoke room. There is no swimming pool.
Every unit will have granite countertops, stainless steel appliances, carpet in the living room and bedrooms, air conditioning and a washer/dryer. The units range in size from 461 to 1,173 square feet.
At the base of planned 43-story condo tower will be a flagship, 23,000-square-foot Longs Drugs store, which will be the lone commercial tenant for the building.
One downside to the project is that every unit, including the three-bedroom units, come with just one parking stall. However, the project is planned along the proposed rail line and next to a rail station. In fact, the rail line is planned to run right along the makai side of the building.
Under HCDA guidelines, developers in Kaka'ako are required to set aside at least 20 percent of their development for reserved housing.
Developer Howard Hughes is building Ke Kilohana to meet its reserve requirement instead of setting aside units within its ultra-luxury towers, such as Waiea, Anaha and the Gateway Towers.
Ke Kilohana could be completed as soon as in late 2018 or in 2019.
Got a suggestion for our real estate blog? Know of a fabulous open house? Fascinating story? We want to know. Shoot us an email at realestate@honolulumagazine.com