The Next Horrible Shoe Fad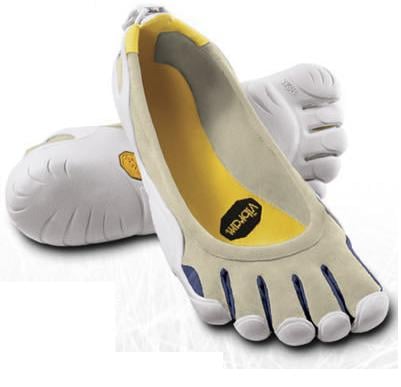 Disturbing trend watch. In the past month, I've seen five different people wearing Vibram Five Fingers shoes. If you're lucky enough not to be familiar with these things, they're flexible, slip-on shoes that feature articulated toes.
Five Fingers are a fairly recent invention, but I'm worried at how fast they're catching on. Most of the Vibram victims were on the street, or in casual restaurants, but one guy was proudly sporting them in swanky local nightclub Apartment3. When I took a photo of the man's hideous situation, he started going on and on about how great, how comfortable, his unconventional footwear was.
People, please. We're trying to run a civilization here. I'm going on record now as saying that biological-looking toe-shoes are an Officially Terrible Thing. Maybe even a portent of the end times. If we're not careful, Vibram Five Fingers are going to turn into a visual blight similar to the Crocs craze that swept the nation earlier this decade.
Stay strong, Honolulu. All the comfort in the world isn't worth your soul.