The Honolulu Zoo Bids Aloha To Beloved Lani Moo
The ambassador for Meadow Gold Dairies lived at the Keiki Zoo for more than 12 years.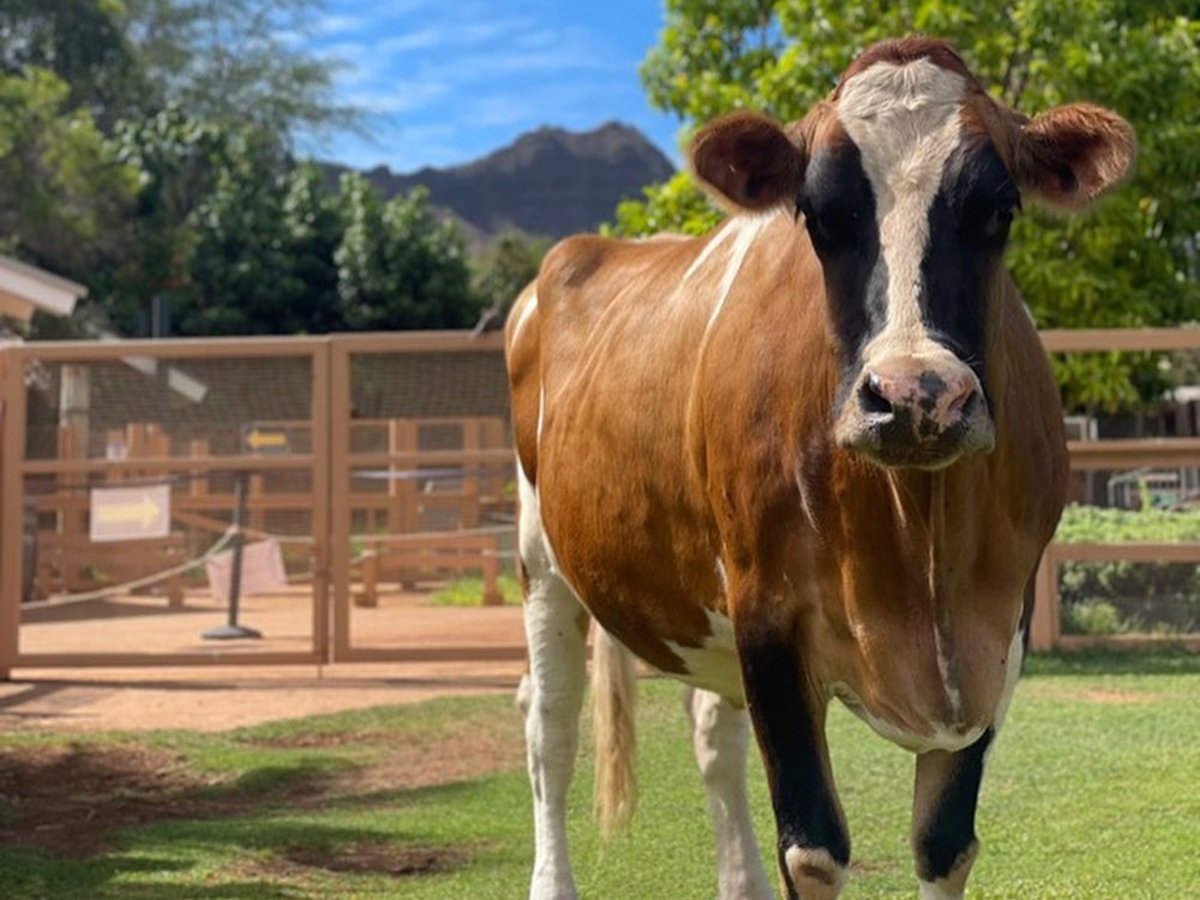 Lani Moo, the beloved Meadow Gold Dairies ambassador and longest residing cow at the Honolulu Zoo, has died.
She was the third Lani Moo to call the Keiki Zoo her home, arriving at just under a year old. She lived there for more than 12 years.
"We are deeply saddened by the passing of Lani Moo," said Honolulu Zoo Director Linda Santos. "We were all very fond of her, as she brought joy to not only the lives of thousands who visited the Honolulu Zoo, but to the dedicated team that looked after her wellbeing daily. She will be dearly missed."
---
SEE ALSO: How Do Animals React When No One Visits the Zoo? We Found Out
---
View this post on Instagram
Many longtime residents remember the original Lani Moo—she has been the ambassador of health and nutrition for Meadow Gold for more than 70 years.
The first Lani Moo made her debut at the Honolulu Zoo in 1996. Since then, there have been two other cows that Meadow Gold has donated to the zoo. (The dairy also funded the Lani Moo barn and educational exhibits.)
"We are grateful to the Honolulu Zoo and its amazing caretakers for making Lani Moo so welcomed and a part of their family," said Bahman Sadeghi, Meadow Gold CEO. "Their loving and attentive staff are truly the reason why so many visitors and local families can enjoy animals like Lani Moo and create fond memories. We are honored that this Lani Moo was able to share in the experiences of so many for over a decade. We look forward to our continued partnership with the Honolulu Zoo."
The Honolulu Zoo and Meadow Gold are working together to plan a celebration of life to honor the late Lani Moo.