The Haunted Lagoon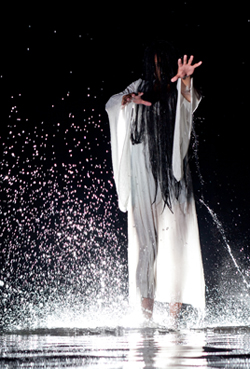 Through the month of October, the Polynesian Cultural Center will take you on a ride into its Haunted Lagoon. The haunted lagoon rides are one of the center's most popular events, with some nights attracting more than 3,000 people. So, if you are up to being spooked, head out to the North shore.
Once aboard the canoe, you will encounter zombies, creepy clowns, and of course, the Laie lady—a ghostly visitor that has frequently been seen on the grounds of the center, searching for her missing son. The silhouettes of the palm trees and the grass huts are a perfect setting for a haunting. The ride features more than 100 cast members, a new tunnel full of laser-lighted fog and monsters, clowns and zombies swimming toward your canoe—once in awhile getting close enough to try and grab a leg. Don't be scared off by the long lines; the show begins when you enter the Polynesian Culture Center to pick up your tickets. You will see monsters and creatures of all kinds, roaming the grounds looking for people to scare.
For the faint of heart, the center offers a family-friendly version of the ride, from 6:30 to 7:30 p.m. Book Haunted Lagoon tickets in advance as limited space is available and seats often sell out. The box office opens from 4 to 8 p.m., the canoes start running from 6:30 p.m. 55-370 Kamehameha Hwy, Laie. For more information, coupons and specials visit www.HauntedLagoon.com.