The 50th State Fair is in Town
Plus, take a trip back to 1949 and see photos from the 49th State Fair.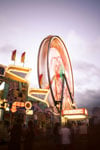 You know it's summer when the 50th State Fair sets up shop at Aloha Stadium. The fair will be in full swing each weekend through the end of June, with everything from old favorites like the Ferris wheel and the Zipper to new rides brought in from the Mainland like Area 51 and Fun Factory. The Fair has been an annual tradition on Oahu since 1937, when it first popped up as a trade show.
For more than a decade, starting in 1947, it was known as the 49th State Fair—the Territory of Hawaii was optimistic it would beat out Alaska in its bid to become the next state in the union. Ah well, "50th State" sounds cooler anyway. For more information, visit ekfernandez.com.