Thanksgiving in Honolulu 2013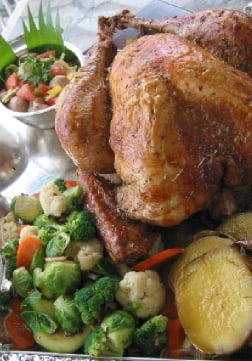 Who doesn't love Thanksgiving? Spending the day with loved ones, celebrating all you're thankful for, but really, it's all about the food. And so much of it. Until you just can't eat another bite. Thanksgiving dinner is also a lot of work. This year, take the day off—literally—and treat yourself to dinner out. Or eat at home and just order in. Count it as one more thing to be thankful for this year.
Dine Out
The Kahala Hotel and Resort
– Hoku's Thanksgiving Day brunch
This brunch buffet takes the word smorgasbord to heart. First, there's the seafood bar featuring lobster, oysters on the half shell, crab claws, ahi sashimi, poke and more. Since it's Thanksgiving, you have to save room for turkey and mashed potatoes. There are also made-to-order omelets from the omelet bar. For dessert, choose from pumpkin or pecan pie (how about both?), sweet potato tarts, the hotel's famous bread pudding and an assortment of sweets to dip into the chocolate fountain. Don't worry, there'll be plenty of time left in the day for a nap.
$85 for adults, $42.50 for children ages 6 to 12. Call 739-8760 for reservations.
– Hoku's Thanksgiving week dinner
If you're more of a Thanksgiving traditionalist, minus the actual cooking and cleaning, and the possible awkward family conversations, opt for a five-course prix fixe dinner at Hoku's. Dinner kicks off with an amuse bouche of apple cider with vanilla and bourbon. Then it's an upscale take on green bean and French onion casserole with a haricot vert salad with crispy confit turkey and cippolini onions. The second course is a sweet potato wrapped shrimp with ginger, coconut and wasabi. The main course is sous vide turkey breast served with creamed corn, braised Waimanalo greens, and cornbread stuffing. The meals finishes with a caramelized pineapple tart made with dark rum cremeux and candied macadamia nuts.
$90 per person, $30 additional for wine pairings. Call 739-8760 for reservations.
– Plumeria Beach House Thanksgiving Day Brunch
If you want an ocean view with your brunch, head to Plumeria Beach House. There's a seafood bar, an omelet bar, a French toast bar, as well as the traditional Thanksgiving Day fixings and dessert.
$75 for adults, $37.50 for children ages 6 to 12. Call 739-8760 for reservations.
– Plumeria Beach House Thanksgiving Day Dinner Buffet
Start off with a hot bowl of pumpkin, ginger or coconut bisque. Then tuck into a heaping plate of roast turkey with chestnut stuffing, herb gravy and cranberry sauce and prime rib of beef au jus with horseradish cream. Don't forget a slice or two of pie.
$75 for adults, $37.50 for children ages 6 to 12. Call 739-8760 for reservations.
– SHOR Restaurant at The Hyatt Regency Waikiki Beach Resort
SHOR Restaurant will be offering its Turkey Action Station. What's that? It's a turkey buffet with all the fixings right at your fork. This year's specialty: duck confit stuffed turkey legs (turduck?). Pile on a healthy helping of mashed potatoes whipped with Naked Cow butter. For dessert, add a scoop or two of vanilla gelato from Il Gelato to go with your pie.
$55 for adults, $15 for children 6 to 12 and free for 5 and under.
Mac 24/7 at Hilton Waikiki Beach
This place is known for its plentiful portions, so you know you'll be getting a lot of food—and variety—during its Thanksgiving buffet. The dinner entrée choices include roasted turkey, cherry-pineapple glazed ham and Hawaiian sea salt-crusted prime rib. These will go well with sides such as roasted butternut lobster bisque, and Maui onion Stuffing. Of course, no trip to Mac 24/7 would be complete without its signature super large pancakes, available at the Mac Daddy pancake station.
$42 for adults, $16 for children under 12, call 921-5564 for reservations.
Tiki's Grill & Bar
Enjoy a three-course dinner, featuring Waimanalo greens or a parsnip and apple bisque, roasted turkey and all the fixings and pumpkin butter cake with eggnog anglaise for dessert. Turkey dinner not your thing? Tiki's regular menu is available all evening, too.
$29 per person, call 923-8454 for reservations.
Monkeypod Kitchen at Koolina
Your Westside options include a Thanksgiving dinner at Monkeypod, where the centerpiece is a free-range turkey with made-from-scratch giblet gravy. Sides include a cranberry chutney, brioche stuffing with Italian sausage and pancetta, Kahumana Farms beans sauteed with Naked Cow butter, carrots glazed with rum and honey, and of course, mashed potatoes. For dessert: pumpkin or apple pie. Plus, you don't even have to miss out on leftovers for the next day: every turkey dinner comes with a turkey sandwich to go!
$39 per person, monkeypodkitchen.com/ko-olina/reservations/
Turtle Bay Resort
– Kula Grille
Enjoy Thanksgiving up on the North Shore at Kula Grille. This buffet includes turkey, as well as hamachi sashimi, garlic rosemary leg of lamb, crab-crusted mahimahi, mango pie with mac nut shortbread crust, pear and walnut torte and more. It might be hard to go back to just turkey and potatoes.
Dinner is $58 for adults, $26 for children 5 to 12 and free for 4 and under. Call 447-6632 for reservations.
– Paakai
Sit down to a four-course dinner featuring seared scallop salad, sweet potato soup with Poamoho farmed avocado cream, alae salt rubbed turkey grilled parsnips, cornbread with smoked ham and candied ginger honey pumpkin cheesecake pie.
$69 per person, $80 per person with wine pairings. Call 447-6632 for reservations.
3660 on the Rise
Treat the family to dinner this year at this Kaimuki restaurant. The buffet features all the holiday regulars plus green beans with smoked salmon, shredded barbeque pork, chicken fried chicken with country gravy, oyster stuffing, and prime rib. It's a Thanksgiving feast of which Ron Swanson would approve.
$47.50 for adults, $19 for children ages 3 to 10. 3660.com/events.
Ruth's Chris Honolulu and Waikiki
You may come here for the steak, which you can still order, but it is Thanksgiving after all. The steakhouse has a three-course dinner including a salad or Louisiana seafood gumbo starter, turkey breast and gravy, with stuffing and mashed potatoes, sweet potato casserole, green beans or creamed spinach. Dessert is pumpkin cheesecake and vanilla ice cream.
$37.95 for adults, special keiki menu available for $12.95 per child ages 12 and under.
Honolulu location, 599-3860, Waikiki location, 440-7910.
Atlantis Navatek Cruises
Take Thanksgiving to another level by having dinner on a boat. Choose between a buffet featuring a traditional turkey and mashed potato dinner on the lower deck ($99 for adults and children ages 7 to 12, $55 for children ages 6 and under) or a five-course lobster and steak dinner on the upper deck ($129 for adults and children ages 7 to 12, $72.45 for children ages 6 and under). Either way, everyone is treated to live music and hula with a backdrop of the Waikiki and East Honolulu shorelines. Atlantisadventures.com.
The Counter
Sometimes you just feel like a burger, even if that day is Thanksgiving. The Counter happens to have a turkey burger, dubbed the Not Your Granny's Turkey Burger ($13, making it one of the more wallet friendly Thanksgiving Day options). It's 1/3 pound of seasoned turkey patty, underneath baby spinach, dried cranberries, sliced red onion, made-to-order-sweet potato hash, a slice of maple glazed ham and smothered with rosemary cream sauce. Wash it down with the sweet potato or pumpkin pie milkshake ($6.75).
thecounterburger.com/Honolulu
Take Out
The Kahala Hotel and Resort Thanksgiving at Home
It's all the holiday trimmings without all the mess: One 12- to 14-pound turkey, stuffing, gravy, mashed potatoes, sautéed vegetables, cranberry sauce, fresh baked bread, salad with vegetables and lilikoi vinaigrette, and a pumpkin pie. The only work you have to do is place an order and pick it up (between 4 and 7 p.m. Nov. 27, or 9 a.m. and 5:30 p.m. on Thanksgiving Day).
$175, call 739-8760 to order.
Turtle Bay Resort's Turkey on the Run
Gather 12 to 14 of your closest family and/or friends and invite them over. You can then pretend you've stood over the hot stove for days after presenting this made-at-homesque dinner featuring a roasted turkey, mac nut sage dressing, giblet gravy, cranberry sauce, corn on the cob, mashed potatoes, candied sweet potatoes, rolls and butter, pumpkin pie and pecan pie. You're quite the cook.
Call 447-6504 or 447-6805 to order.
Greens & Vines
Not everyone is a carnivore. Sylvia Thompson at Greens & Vines has you covered on this gluttonous of holidays. Chow down on the restaurant's raw, vegan meals, featuring not-turkey with butter lettuce cups, Waldorf salad, cauliflower-thyme mash with miso shallot gravy, onion bread croutons, celery with porcini mushroom gravy and kabocha pumpkin pie.
$45, call 536-9680 to order.
Whole Foods Kahala and Kailua
Whole Foods has the whole heat-and-serve business down, from whole turkey dinners for eight and all the trimmings ($120), to a turkey breast meal that feeds four to six of your closest friends and family ($59.99). Want to forego the turkey entirely? Get a ham dinner for six instead ($130), or just the sides, including stuffing, mashed potatoes, gravy and cranberry sauce ($35).
Wholefoodsmarket.com, Kahala store, 738-0820, Kailua store, 263-6800.