Thanksgiving Day in Honolulu
Don't feel like cooking for Thanksgiving? There are dining options still, but restaurants and caterers are encouraging diners to act quickly as reservations are filling up.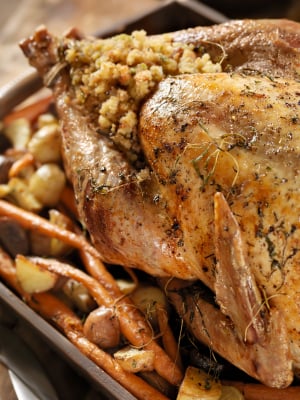 Hale Aina Award-winning Hoku's, inside the Kahala Hotel, is hosting a Thanksgiving brunch buffet ($70/adult, $52/child) with made-to-order sushi, seafood and eggs benedict. The evening's five-course prix fixe Thanksgiving menu ($70 per person) includes pumpkin spice foie gras, kabocha bisque and herb-roasted turkey. Thanksgiving day brunch is from 10 a.m. to 2 p.m., and Thanksgiving dinner is offered every night November 24 through 30 from 5:30 to 10 p.m., call 739-8760. Reservations are necessary.

The Plumeria, at the Kahala Hotel, is offering a brunch ($60/adult, $52/child), featuring made-to-order omelets, traditional turkey and a pancake bar. The dinner buffet ($60/adult, $45/child) highlights prime rib, herb-crusted lamb chops, turkey with all the trimmings, seafood, and a dessert bar with bread pudding that, according to the restaurant staff, is a must-try. Brunch is from 11:30 a.m. to 2:30 p.m., and the dinner buffet from 5:30 p.m. to 9:00 p.m, call 739-8760. Reservations are necessary.

North Shore residents—or, those wanting a bit of a road trip—will appreciate the buffet at Turtle Bay's Palm Terrace. Diners can fill their plates with dishes like lobster bisque, shrimp, sushi, Hawaiian salt-crusted prime rib, turkey and pecan-crusted tofu. The buffet ($46/adult, $23/child) will be open from 3 to 9 p.m., call 293-6000. Reservations are necessary.

The Kai Market Thanksgiving brunch buffet ($55/adult, $15/child) at the Sheraton Waikiki will be packed with Hawaii-inspired dishes like salt-crusted prime rib, pan-fried Hawaiian sea bass with Thai lobster curry sauce, and Kula Farms strawberry and spinach salad. Expect more of the same on the dinner buffet ($59/adult, $15/child) with Kahlua drunken duck, island-style sashimi and Portuguese sweet bread pudding. Brunch is served from 10 a.m. to 3 p.m. and dinner from 5 p.m. to 9:30 p.m., call 921-4600. Reservations are necessary.

Enjoy a Thanksgiving Day dinner buffet ($88/adult, $55/child) in the historic and grand Royal Hawaiian Monarch Room. Offerings like gourmet prosciutto, Szechuan slippery lobster stew with shiitake mushrooms, and flambéed apple bananas will spice up traditional Thanksgiving expectations. Reservations are going quickly. Call 921-4600.

Hale Aina Award-winning Azure Restaurant is whipping up a four-course Thanksgiving Day dinner ($60/person), in addition to offering diners its regular menu. Count on a traditional feast with Hawaiian accents: roasted turkey with Hawaiian pipikaula stuffing. Dinner is served from 5:30 to 9 p.m., call 921-4600. Reservations are necessary.

The garden setting at the Pikake Terrace, inside the Sheraton Princess Kaiulani, makes for a nice Thanksgiving Day buffet spot ($36.50/adult, $12.50/child). From traditional dishes like carved turkey and apple-chestnut stuffing to seafood lover favorites, such as the steamed crab legs, this spread will have something for everyone. While you're there, don't miss a tour of the annual Santa German's Gingerbread Village, which will be unveiled November 24. Dinner is served from 5 to 9:30 p.m., call 921-4600. Reservations are necessary.

A few years ago the Rachael Ray Show filmed a piece on the Kalapawai Marketplace in Kailua and recommended that viewers not miss out on having a Kalapawai beach burger when available—which happens only during summer weekends, Christmas break and for Thanksgiving weekend. On November 25, the outside burger stand will offer turkey burgers in addition to its beef and chicken varieties. Order yours with Andy's salsa. Open 11 a.m. to 5 p.m.

Take-away options sell out fast on the Island, but we found just a few places with a few available to-go turkey dinners:

Foodland, Safeway and Whole Foods have complete holiday dinners available for take-away. Don't wait too long to call and reserve yours; some locations are close to selling out. Prepared meals, which feed six to eight, range in price from $40 to $99.

Panya Bakery has a couple dozen ham dinners available, that that's it. The price is $199 and feeds six. It includes an appetizer plate (spring rolls, salt and pepper shrimp, chicken wings, and gyoza), the ham, dinner rolls, mochi rice, salad, veggies and a choice of pumpkin-inspired pie. Call 597-8880.

The Turtle Bay Resort's restaurants still have Turkey-On-The-Go boxes available. The traditional turkey dinner for eight ($120) includes all the side dishes from cranberry sauce to Hawaiian sweet bread stuffing, and includes pumpkin and maple pecan pies. The order deadline is Nov. 19 at 3 p.m. Call 293-6026.