Honolulu Parent to Parent: Take Tot Out To The Ballgame
University of Hawai'i baseball games are very family friendly, and affordable. Here are our tips for the ballpark.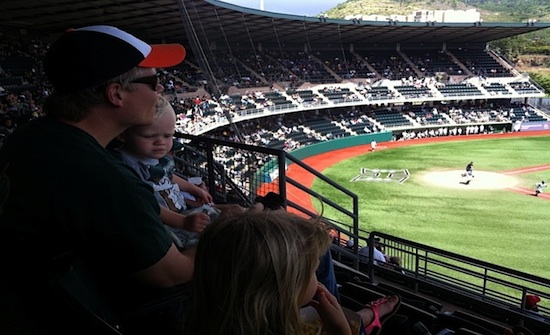 Baseball season is back! Heading to Les Murakami Stadium to watch the UH Rainbows is one of my family's favorite pastimes. The ballpark is totally kid-friendly, and is never as loud, intense, or crowded as football games. Plus, it's affordable fun—adult tickets start at just $10, kids (ages 4 to 18) are $4, and ages 4 and under are free. However, sometimes it can be hard to keep your tykes still and entertained for hours. Here's a few tricks I've learned to keep my 2- and 5-year-olds engaged. So go ahead, bring your babies to the ballgame and knock one out of the park.
1. First, the obvious: eat.
The food is arguably my favorite part of the game. I simply can't watch without a hot dog and nachos in my lap. We usually get the kids a hot dog each ($2.75) with fries to share ($2.25), and bring our own water or juice (shhh). Or you can get a kid's meal for $4.50. If you've got a big group or just some big eaters, save money with a Family Pack—four hot dogs, four fries, and four drinks for the discounted price of $25.
2. Get mobile.
Kids seem to love to walk up to the top of the bleachers, back down, and then repeat. I can't explain why it's so fascinating, but they all do it. Pick an aisle seat for easy ins-and-outs. When my son was a baby, I kept him on my lap in my ErgoBaby carrier, which kept him content and still (for a few innings).
3. Pick the afternoon games.
Night games start at 6:30 p.m., and some young tots just can't hang out for that long. Day games usually start at 1:05 p.m. and seem to be better for families—more kids and fewer drunks. If you just want to swing in for a bit to test a game out, admission is free after the 7th inning.
4. Keep the snacks coming.
They're cheaper here than at other sports venues, which I love. Our faves are popcorn for $1.75 and peanuts for $3.50. They keep the kids busy and throwing the shells on the ground gives us a little thrill.
5. Play games.
Play "I Spy." Do some people-watching. Try questions like, which player is on first base? What numbers do you see on their jerseys? How many strikes 'til he's out?
6. Enjoy the entertainment between innings.
Kids love the T-shirt launching machine and the giant hamster ball races on the field. We'll save snacks and treats for "after this inning" to help the time fly by.
7. Dance and cheer.
Being loud is encouraged. Start the wave. Start a cheer. Teach them "Hey batter batter batter, swing batter" at your own risk. My daughter's favorite part of the whole game is singing "Take Me Out To The Ballgame" during the 7th inning stretch. Now that they're playing "Gangnam Style" after it, a kids' dance party inevitably breaks out in the bleachers.
8. Splurge on a few souvenirs.
Swing by the Rainbowtique stand for foam shaka hands, squeezy baseballs, t-shirts and hats.
9. Come prepared.
A few things to remember: bring a warm hoodie and/or raincoat for the chilly days, and sunscreen for the hot ones. If you're getting drenched or too hot, there's usually room to move seats to a covered spot. Bring cash; surprisingly, there's not a single ATM at the stadium. Parking is $6 at the UH structure.
Baseball season usually runs from February through May. For the full schedule and ticket info, click here.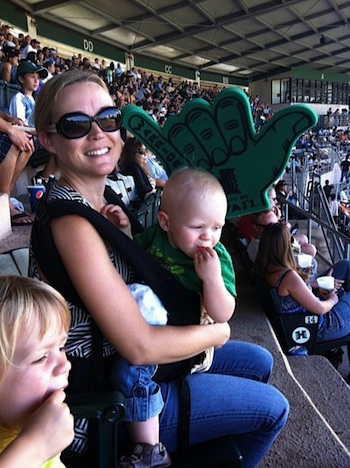 Ashley de Coligny is the proud mother of Ella (5) and Charlie (2). She usually has applesauce in her hair and can name all of the My Little Ponies. You can reach her via email, Twitter, Facebook, or via her personal Honolulu Mom blog.