Take a Ride in the Country: Kahuku Farms Tour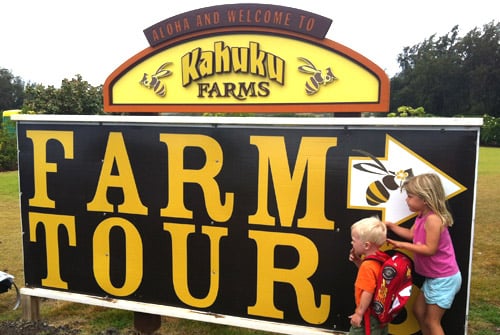 Editorʻs Note: Rates and farm information were updated in 2017.
When searching for weekend activities for my kids, anything that has a "ride" component is a no-brainer. So when I heard that Kahuku Farms offers a tractor-pulled wagon ride and farm tour on weekends, I was interested. When I heard the tour ends at their Farm Café, I was sold. Wagon rides and farm-to-table fare? We're in.
Upon arrival we were offered a sample of the farm's papayas and apple bananas, which my kids gobbled up before I could sneak in one bite. As we waited for the tour to begin, I perused the store offerings, such as made-on-the-farm liliko'i jelly and honey-mango body butters, and drooled over the café menu (more on that later).
At tour time, the kids and I climbed aboard the wagon and were off. Our friendly guide chatted about the history of the farm and pointed out the crops, including papayas, apple bananas, eggplants, liliko'i, dragonfruit, avocado and more. He taught us how they plant, rotate and harvest the crops, all while I vowed to be better about buying local produce.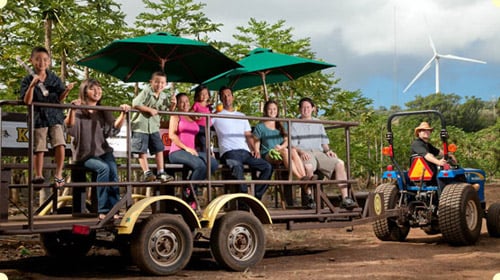 Just as I was getting a little too smug about taking my kids on a farm tour (Look at me I'm raising such conscious localvores!) my daughter started whining loudly for my iPhone, apparently deciding it was a good time to catch up on My Little Pony on Netflix. About the same time, my son started getting squirmy. Right on time, the wagon stopped for a break, so all the kids could run around, check out the bananas up close and pose on the tractor (definitely their favorite part). The promise of ice cream at the end helped, too.
When the tour ended, we made a beeline for the Farm Café, which serves farm-fresh sandwiches, salads, fruit smoothies, sorbets and more. I had the farm pizza, a tomato and eggplant bruschetta topped with mozzarella and basil-mac nut pesto, with a side salad and liliko'i balsamic dressing. It was to die for, and I am now absolutely convinced that everything tastes better on a farm. The Farm Café is open to the public and kids can run around the large grassy area by the picnic tables, or explore the various fruit trees and vegetable crops growing all around for free.
My kids had the handmade Kahuku Farms vanilla ice cream, quite possibly the BEST ice cream I've ever tasted. We shared a fresh-squeezed lemonade. Divine! I'm still kicking myself for not trying their specialty, the grilled banana bread topped with vanilla caramel and haupia. I'll be sure to order it next time. And the next, and the next.
The Details:
Kahuku Farms
56-800 Kamehameha Highway, Kahuku
(808) 628-0639 for tour reservations. (808) 293-8159 for the cafe.
Farm Tours
Friday at 2 p.m.
Kama'āina rates range from $29 for adults to $19 for kids 5 to 12 years. Kids 4 years and younger are free but fruit sampling will cost $4. Book in advance for an additional $2 discount per person.
Smoothie Tours
Monday and Wednesday at 1 p.m.
Kama'āina rates range from $16 for adults to $14 for kids 5 to 12 years. Kids 4 years and younger are free but smoothie will cost $4. Book in advance for a $2 discount per person.
Farm Café
Open daily 11 a.m. to 4 p.m. Closed on Tuesday.
Free to visit. Menu items range from $3 for mango iced tea to $5.25 for the farm-fresh smoothies to $10 for acai bowls or the grilled veggie panini. See the menu here.