Take a Moment
Being thankful for what we have is all too often taken for granted.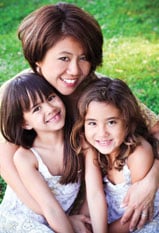 Helen and her girls
The Thanksgiving holiday gives us pause to reflect, to remember what is most important to us. Topping the list are health, family and friends. So, put down the mouse, the pan, the dish towel, the laundry basket, the iPhone and say "thank you" to the ones around you, take a walk around the block, share a smile with a co-worker, call a friend you haven't spoken to in a while, hug your children, kiss your spouse and find time to play.
We could all use a word of advice on how to become a better parent. Author Gabby Bugwadia suggests 10 great tips. If you are planning a birthday party or just looking for a fun place to hang out as a family, check out "Escape into Play at Dave & Buster's," and you'll see why the famous restaurant, bar and games arcade is your best choice for parties, events and family fun. Looking for the perfect preschool or toddler program but just don't know where to start? Check out this list of some of the best programs around. Be careful not to blink; Christmas will be upon us soon! We're ready to get you started with suggestions from our Ohana Holiday Gift Guide.
Thank you for your continued support of Island Family Magazine! Have a happy and safe Thanksgiving!
Aloha,
Helen