T-Rex Planet at Windward Mall
We watch and ride prehistoric creatures.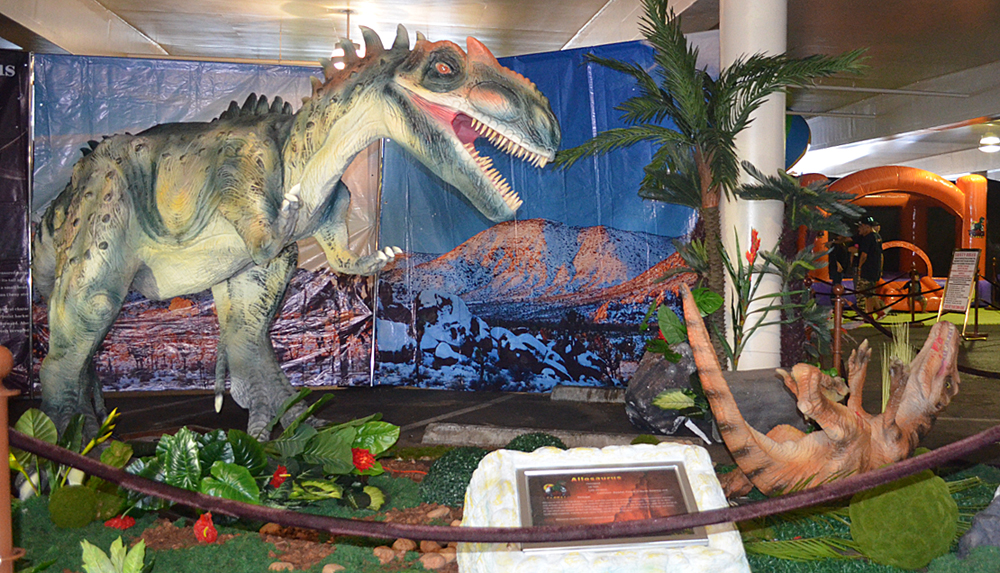 T-Rex Planet at Windward Mall
Dinosaurs at the mall? "Yes, please" was the answer from four of our kids.
So this weekend, we packed them up and headed to T-Rex Planet at Windward Mall. The cost of admission is a bit steep, $20 per person regardless of age. So was it worth it? Yes, for some.
Our group:
Four kids, ages almost 4 to12.
Two adults.
The day:
Sunday, June 21. 1:00–3:45 p.m.
First of all, note the T-Rex Planet occupies several spaces in the mall. You purchase your tickets at the exhibit in the parking lot, center court or in the special space on the ground floor, next to Macy's. If you start there, you may have a difficult time prying the kids away from the two rides, dinosaur shop and games in the former PriceBuster's space. We suggest you skip those until the end.
Then, you'll work your way up to the second level parking lot, just outside of the theatres. When you enter the huge tent, you will find one of the longest lines in the entire experience: Those waiting to ride a dinosaur. You may want to leave an adult here to wait while you and the kids move on. It can be anywhere from 40 minutes to an hour.
Attraction 1: The animatronic dinosaurs
This area is spacious for families visiting the tail-wagging, head-bobbing, arm-moving creatures from the Jurassic, Triassic and Cretaceous periods. These dinosaurs are a little smaller than those we've seen in temporary exhibits, but it was nice for the kids in our group because they could almost see eye-to-eye with a few of them. Two things to note here: It is hot, any air conditioning is lost in this big outdoor tent, and it is very loud. Talking to each other was pretty much impossible. Our 4 year old, a girl who was NOT into dinosaurs, was done in about five minutes. Our almost 6 year old, a dinosaur fan, lasted about 15 minutes. Those old enough to read the placards spent about half-an-hour watching the dinosaurs.
Wait time: None.
Verdict: Most engaging for kids 7-10 years. It makes a big difference if they can read the educational information. Our older kids said they definitely learned something.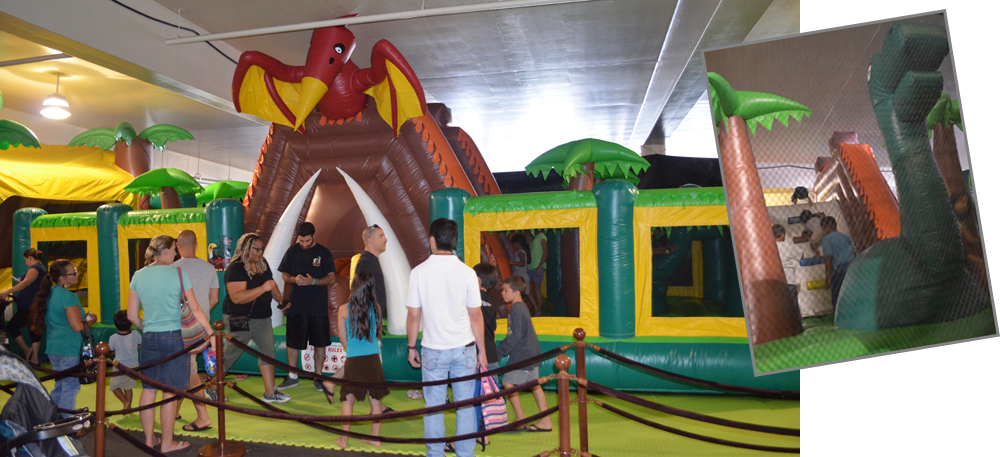 Attraction 2: Fossil dig and bouncers
On the left side of the tent, toward the back, you'll find the fossil dig and five dinosaur-themed bouncers. The pit is the size of a large backyard sand box. We waited about five minutes, before the antsy younger kids couldn't take it anymore and we headed to the bouncers. All four kids hit bouncer row. The hands-down favorite was the obstacle course bouncer complete with dinosaur, climbing wall and slide that the 10 year old gleefully informed us was so steep, it was like jumping off a wall.
Price: $5 for each the dig and the bouncers.
Wait time: No wait for the regular bouncers. About five minutes for the obstacle course which has capacity and time limits.
Verdict: Fun for all.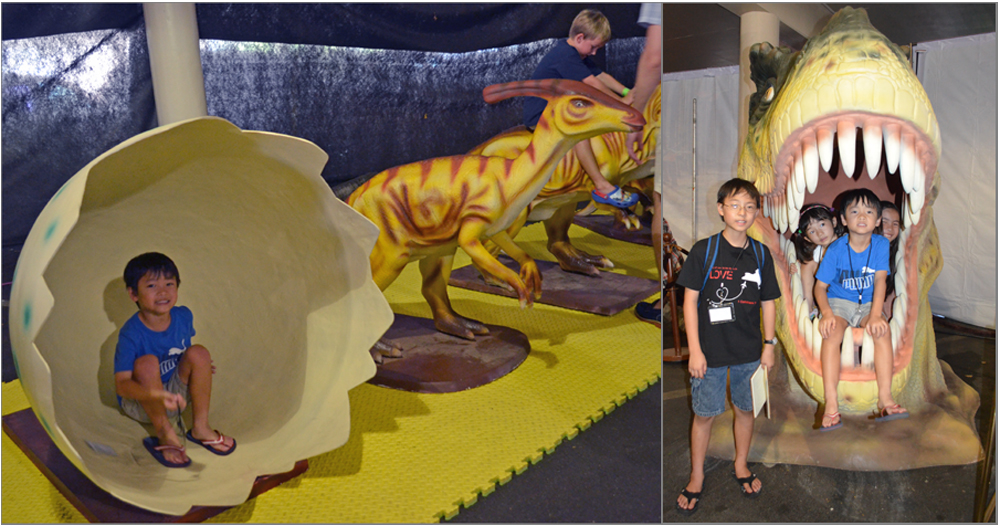 Attraction 3: Photo ops
We bet you'll see a lot of dinosaur photos in Christmas cards this year. Kids could climb into a dinosaurs mouth to grin amongst the teeth, peep out of a shell, or hop on the back of some smaller dinos. You'll also find three small dinosaurs rocking out to music for that Chuck E Cheese experience.
Price: Free with admission.
Wait time: Just a few minutes.
Verdict: Worth the non-existent wait.
Attraction 4: Realistic rideable dinosaurs
This is just cool. Kids can saddle up on a dinosaur and steer it around an open ring. The only problem is that there were only two dinosaurs in operation when we were there. With each child getting about four minutes of driving time the line was slow. We had to bail. But parents we chatted with said their kids loved it. The parents loved the video and photo ops.
Price: $5 per ride.
Wait time: We experienced 40 minutes to an hour.
Verdict: Cool, if your kids are willing to wait.
Attraction 5: In the mall
Located inside the old Pricebuster's location, you can buy your tickets to the exhibit as well as two rides, three games and you can shop for a dinosaur gear. The line for the stuffed-animal-looking driveable dinosaurs on wheels was also very lengthy, but at least you're waiting in air conditioning. While three of us waited, our older kids took a turn at the soccer and basketball games for a chance to win a Yoshi doll. At the time, just one staff worker was running both, so even a three-person line took awhile to get through.
One hour later, it was FINALLY time to ride. The free-wheeling dinosaurs take off just by pushing a green button. Our 4, 5 and 10 years olds were thoroughly entertained during their six minutes in the driving ring. Parents, watch out if you are taking photos or video taping the experience as it is easy to be run over. If you have younger kids, you'll spend half your time backing them up from the fencing or trying to avoid collisions.
Price: $5 each ride. Prices we saw in the dinosaur shop ranged from about $4.99 for small dinosaurs to $25 for a dinosaur backpack.
Wait time: It was about 65 minutes for the driveable dinosaur, 15-30 minutes for the saddled dinosaurs, 15 minutes for the games.
Verdict:The kids loved the ride and we loved watching them have fun. If the line was shorter, we would have gone again, and as our 4 year old said, again and again and again and again!
We asked T-Rex Planet about the waits and we were told that management made some changes after opening weekend. The exhibit is bringing in at least 15 additional employees and will no longer offer the $30 VIP wristband that came with unlimited rides. That should cut down the long lines but it will increase the price of the rides and games.
You can see T-Rex Planet at Windward Mall, through July 13. Friday and Saturday, 10 a.m. to 9 p.m., Sunday from 10 a.m. to 6 p.m. Find more information at windwardmall.com.