HONOLULU Family Recipe: Try This Sweet and Tangy Grilled Chicken Salad
Healthy, tasty and easy chicken salad you can enjoy for lunch or dinner.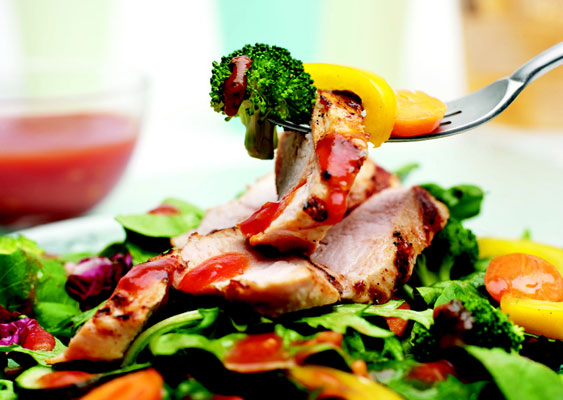 Ingredients:
1 (Unit) can Campbell's Condensed Tomato Soup (10 3/4 ounces)
2 T (Tablespoon) low-sodium soy sauce
2 T (Tablespoon) vinegar
2 T (Tablespoon) honey
0 t (Teaspoon) garlic powder or 2 cloves garlic, minced
0 t (Teaspoon) ground ginger
4 (Unit) skinless, boneless chicken breast halves (about 1 pound)
8 c (Cup) mixed salad greens torn into bite-size pieces
2 c (Cup) fresh vegetables
Instructions:
1. Stir the soup, soy sauce, vinegar, honey, garlic powder and ginger in a shallow, nonmetallic dish or gallon-size resealable plastic bag. Reserve 3/4 cup of soup mixture for dressing. Add the chicken to the remaining soup mixture and turn to coat. Cover the dish or seal the bag and refrigerate for 15 minutes.
2. Lightly oil the grill rack and heat the grill to medium. Grill the chicken for 15 minutes or until cooked through, turning and brushing often with the marinade. Discard any remaining marinade. Slice the chicken.
3. Arrange the salad greens and vegetables on a platter. Top with the chicken. Drizzle the reserved dressing over the chicken before serving.
Preptime: 20
Source: Family Features
Cooktime: 15 minutes
Ready time: 45 minutes